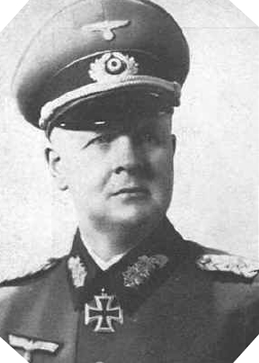 Adolf-Friedrich Kuntzen
Biography
Adolf-Friedrich Kuntzen was born on July 26, 1889 in Magdeburg. He joined the Imperial Army in 1909 and joined a cavalry regiment as an aspirant. During the First World War, he served in the 1st Hussars Regiment and then made a career in the Reichswehr after 1918.
During the inter-war period, he worked in staff and in 1929 he took command of a squadron within the 8th Cavalry Regiment. Kuntzen also takes courses in history and philosophy at the University of Bonne. One year before the start of the Second World War, in 1938, Kuntzen was promoted to the rank of general.
He commands the 3rd light division which becomes the 8th Panzerdivision. On May 28, 1942, he was appointed head of the 81st Corps of the 15th Army throughout the duration of the Battle of Normandy and until September 4, 1944. His unit fought in Normandy and along the Seine river.
On 14 September 1944 he was transferred to the command of the reserve forces and retired in December 1944. He died on 10 July 1964 in Hanover at the age of 74.