Normandy is currently one of the region the most visited of France. It witnessed between June and August 1944 the battle of Normandy that let numerous traces on the Normand territory.
Discover, thanks to numerous photos, this great historic heritage in France and the commemorations of the Normandy landings. The virtual guided tour starts…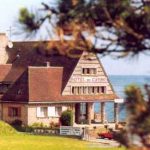 Accommodation: hotels, bed and breakfasts, camping.
The D-Day Overlord website helps you to discover a list of the accommodation in Normandy to facilitate your stay : hotels, bed and breakfasts, camping…
DDay-Overlord.com – Partial or total reproduction prohibited –
Contact