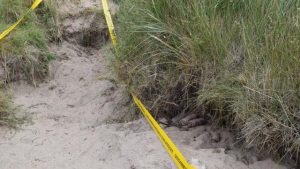 June 12th, 2016 :

Ammunition discovered near Sainte-Mère-Eglise

.
Information source: Ouest-France
On the evening of Friday the 10th, an anonymous person called the gendarmerie to signal the discovery of a stock of ammunition dating from the Second World War, in Saint-Martin-de-Varreville, in the dune near the Leclerc monument. The site is frequented throughout the year by visitors and Sunday walkers.