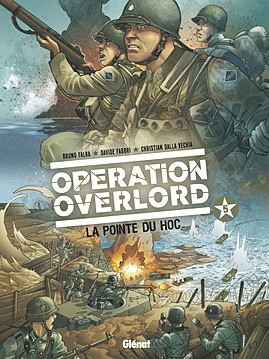 June 5th, 2016: Operation Overlord T5, Pointe du Hoc
Information source: Ligne Clair
This is one of the most well known episodes of the Normandy landing on June 6, 1944. A battalion of Rangers was landed at the foot of Pointe du Hoc to climb the cliff and blow up the batteries of cannons that could water the Allied barges loaded with men on Omaha. In the film The Longest Day this courageous action not to say suicide has been widely described which brought him a real notoriety. Bruno Falba, Davide Fabbri and Christian Dalla Vecchia are in pencils for this album, which appears for the 2016 commemoration of the landing in the Overlord collection.