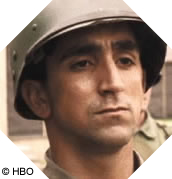 Perconte Frank grew up in the city of Jollet in Illinois (USA).
He volunteers in 1942 in the Airborne troops at Toccoa, Georgia. This is one of the first soldiers to be assigned in Easy Company.
Participating in most operations of the Easy, he was wounded in the attack in the town of Foy in Belgium on January 13, 1945.