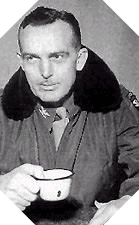 Robert Sink was born in Lexington, North Carolina (USA). He joined the Duke University before being transferred to the U.S. Military Army of West Point, promotion 1927. He joined the U.S. Army as a 2nd Lieutenant and worked at the Normal Assignments Infantry until 1940.
He volunteered in the 501st Parachute Infantry Battalion at Fort Benning, then in the 503rd Parachute Infantry Regiment.
When it came time to find a field officer to order the new 506th Parachute Infantry Regiment, Robert Sink is selected. It was under his command that the regiment (including the Easy Company) went to war on June 6, 1944.
He was greatly appreciated by all members of the 506th PIR and the regimental number appointment (506) changed from "Five-Ho-Six" to "Five-Ho-Sink-".