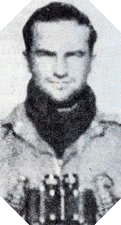 Ronald Speirs was born in Edinburgh in Scotland and grew up in Portland, Maine, USA.
He makes a military training at school and the military authorities send him to the infantry. But Speirs volunteers for the Airborne.
He is squad leader of D company at Toccoa, Georgie, in 1942 and joined the Easy in Bastogne, Belgium, in December 1944.