2019 D-Day reenacting agenda
Normandy commemorations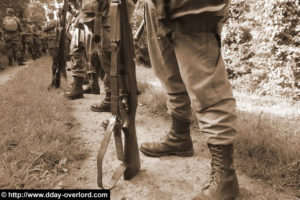 This page presents you the calendar of the various reenactments of military camps in 2019 on the occasion of the 75th anniversary of the landing and the battle of Normandy.
You want to add an event to this calendar: click here.
Chaudière Regiment Camp – Rue Victor Tesnière, 14990 Bernières-sur-Mer
Reenactment of a Canadian military camp of the Chaudière Francophone Regiment at the Bernières-sur-Mer Playground, near Juno Beach where this unit landed on June 6, 1944.
Camp Geronimo – Airborne Museum, 50480 Sainte-Mère-Eglise
Camp featuring US airborne troops in Normandy. Presence of tanks and many animations on the spot.
Creully Camp 2019 – Château de Creullet, 14480 Creully
Come back to the daily life of the soldiers and civilians who fought during the Second World War over the British sector of Creully and more precisely to the Creullet Castle, which was a particularly important place in the Battle of Normandy.
Camp Arizona – Rue de la guinguette, 50500 Carentan
Rally of allied and civilians reenactors. Exhibition of equipment and scene of life, exhibition of vehicles of collection, various animations.
DDay-Overlord.com – Partial or total reproduction prohibited –
Contact