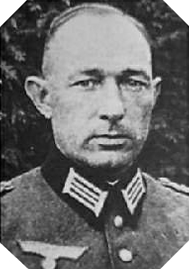 Wilhelm Richter
Biography
Friedrich-Wilhelm Richter was born in 1892. At the age of 21, he joined the imperial army, and the following year he took part in the battles of the First World War. After 1918, he remained a soldier and made a career in the Reichswehr. Richter commanded his first regiment from 1937: the 30th Artillery Regiment.
He participated in the invasion of Poland and the campaign of France and took part in the fighting on the Russian front. In March 1943, he took command of the 716th Infantry Division which is positioned in Normandy to protect the French coast from a possible Allied amphibious assault. Its sector is bordered on the west by Bayeux (where the 352nd Infantry Division is located from May 1944) and on the east by Caen.
The division of Wilhelm Richter is plunged into Operation Overlord from D-Day and his men are fighting both dismounted units and paratroopers of the 6th British Airborne Division. Jostled by the Allies, the 716th Infantry Division values ​​defensive positions in the Caen area which is the subject of multiple offensives by the Anglo-Canadian forces.
Despite a tenacious defense, the Germans are jostled and June 15, 1944, the division lost sixty percent of its workforce.
The 716th D.I. is then removed from the front to be reorganized and replenished in men and materials. In September 1944, after the Battle of Normandy, Richter lost command of the 716th Infantry Division and instead took the lead of a Luftwaffe Division deployed in Norway, in a particularly quiet area where he ended the war. He died in 1971 at the age of seventy-nine.