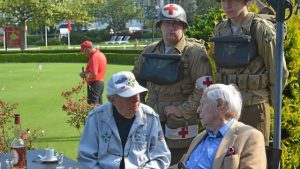 June 8th, 2016 : They meet… 72 years later!
Information source: Ouest-France
Author: Pauline Darvey
Jack Port and Gérard Medaisko met for the first time yesterday in Deauville. 72 years after the D-Day. Complicity. When one sees these two men discussing on the terrace of the new golf Barrière de Deauville, this is what we perceive immediately. One is French, the other American. Long-time friends? Not really. To tell the truth, Gérard Medaisko and Jack Port have just met. And yet, they have a lot to tell. Their common thread? They both landed on the beaches of Normandy on June 6, 1944. The first at Juno Beach, the second at Utah Beach.