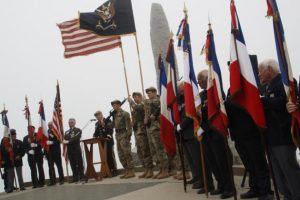 June 7th, 2016: The spirit of the Rangers hailed at Pointe du Hoc
Information source: La Renaissance Le Bessin
Author: Coralie Ganivet
"The Pointe du Hoc was to be taken, the success of the D-Day landing depended on it." 72 years after their heroic ascent, a tribute was paid to the GI's of Colonel Rudder.
A commemorative ceremony was held at the foot of the Rangers Monument, which became a place of memory for many Americans and one of the symbols of the sacrifice of the Gi's. Many local personalities, such as Sub-prefect, Laurence Béguin, and American, like the American ambassador to France, Jane Hartley, were present.