ALG A-24 C – Biniville
Battle of Normandy
This page presents the history of ALG (Advanced Landing Groud) A-24 C, used by the 9th United States Air Force during the Battle of Normandy.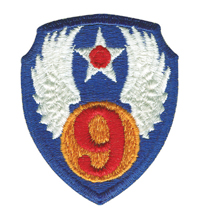 9th United States Air Force
Location: Biniville, Manche (50)
Code: A-24 C ("Cargo")
Coordinates: 49°26'19"N – 01°28'05"W
Construction: from July 12 to July 17, 1944 by the 830th Engineer Aviation Battalion (EAB)
Operational period: from July 17, 1944 to August 21, 1945
Airstrip: compacted earth
Length: 1 097, 28 m (3 600 feet)
Width: 36,57 m (120 feet)
Azimuth: 42°
ALG A-24 C history:
ALG A-24 C is located north of the towns of Biniville and Hauteville-Bocage, between the so-called places of La Gouberderie (in the south) and the Hameau de l'Epine (in the north).
Built very quickly, this aerodrome is dedicated to the supply and transport of the authorities as well as the wounded, hence its name A-24 "C" (the "C" refers to "Cargo").
DDay-Overlord.com – Reproduction subject to authorization of the author –
Contact