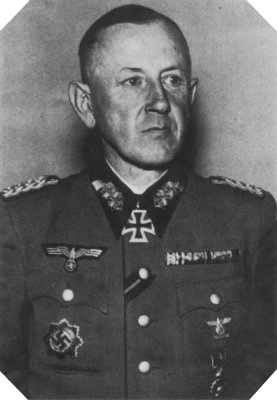 Dietrich Kraiss
Biography
Dietrich Kraiss was born on November 16, 1889 in Stuttgart. He served in the infantry during the First World War and remained in the Reichswehr after 1918.
When the Second World War broke out in Europe, he commanded the 90th Infantry Regiment until March 1941, when he commanded the 168th Infantry Division until March 1943 and the 355th Infantry Division for two months.
From November 1943, Dietrich Kraiss took command of the 352nd Infantry Division. Back from the Russian front a few weeks before the launch of Operation Overlord, his unit is based in Normandy as part of the defense of the coast between Isigny-sur-Mer and Bayeux. Despite the messages sent to London by the French resistance, informing the arrival of this unit on the landing beaches, the Allies do not know that Kraiss and its 7,400 soldiers are in the region on June 6, 1944.
Kraiss draws on the lessons learned in Russia and has an important reserve, contrary to the orders given by Rommel. D-Day, its 352nd division is opposed to the Americans on the beach of Omaha and they are in great difficulty, advancing only one kilometer the first day of fighting and suffering catastrophic losses.
Despite a very strong fighting spirit, the Kraiss soldiers are overwhelmed by the Allied war machine and must retreat in the days following the launch of Operation Overlord to Saint-Lô. Seriously wounded during the fighting on August 4, 1944, he died two days later.