Coutances (Manche)
The cities of Normandy during the 1944 battles
Liberation: July 28, 1944
Deployed units:

Combat Command B, 4th Armored Division

 2. SS Panzer-Division "Das Reich"

Fallschirmjäger-Regiment 6, 91. Infanterie-Division
History:
On June 6, 1944 at 8 pm, the Allies made the first of numerous air attacks targeting Coutances. The aim is to disorganize and slow German reinforcements heading for the landing beaches. Three waves of American bombers are hired at 8 pm, 8:15 pm and 8:30 pm. Then at midnight, English bombers attack the town during a 40-minute raid: nearly 250 inhabitants are killed. Coutances was again bombed in the night of 13-14 June and the incendiary bombs melted the leaden dome of the cathedral's lantern tower. The city is destroyed at nearly 60%.
On July 24, 1944, the Americans launched Operation Cobra to pierce the front line south of Cotentin: 1,600 bombers of the 8th U.S. Air Force are engaged and the launch of the ground offensive begins the next day. On the right flank of the starting base of the operation, the American units are instructed to fix the opponent to prevent it from containing the breakthrough.
Starting on 28 July, the day after the liberation of Périers, the 4th Armored Division commanded by Major General John Shirley Wood was hired on the first rung and progressed along the departmental road 971 in the direction of Coutances. The German paratroopers of the Fallschirmjäger-Regiment 6 (91. Infanterie-Division) and the elements of the SS Panzer-Division "Das Reich" charged with defending this sector retreated and abandoned the city to the Americans: the progression of Combat Command B Commanded by Brigadier General Holmes E. Dager is quick and does not meet any particular opposition: at the end of the day, this unit seizes the ruins of Coutances.
Coutances maps: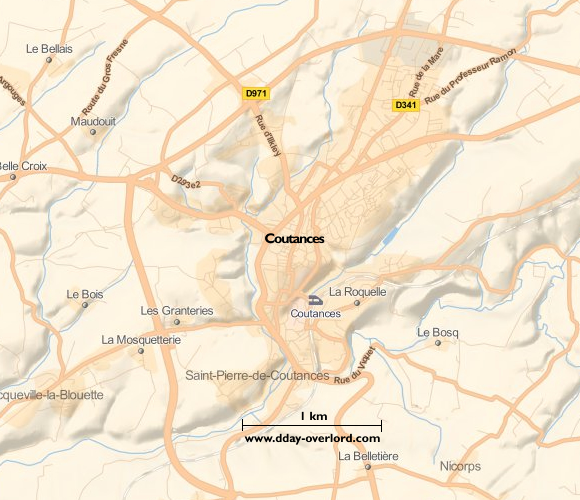 Back to the Normandy cities in 1944