Le Ham (Manche)
The cities of Normandy during the 1944 battles
Liberation: June 17, 1944
Deployed units:

2/325th Glider Infantry Regiment, 82nd Airborne Division

359th Infantry Regiment, 90th Infantry Division

Grenadier-Regiment 1057, 91. Infanterie-Division

 243. Infanterie-Division

Sturm-Bataillon AOK 7, 709. Infanterie-Division
Historique :
As early as June 7, 1944, American soldiers stationed at Sainte-Mère-Eglise were ordered to advance along the national road 13 towards Montebourg, an important crossroads road and one of the last locks before Valognes and Cherbourg. On the left flank of the 4th Infantry Division, which was to capture Montebourg, paratroopers from the 82nd Airborne Division headed for Le Ham village.
On June 10, the 2nd battalion of the 325th Glider Infantry Regiment commanded by Lieutenant-Colonel John H. "Swede" Swenson approaches Le Ham in the south-east, supported by allied aviation, but the glidermen are pinned down at dusk by shots of German defenders belonging to different units: Grenadier-Regiment 1057 (91. Infantry-Division), 243. Infantry-Division and Sturm-Battalion AOK 7 (709. Infantry Division). The Americans decide to relaunch their offensive the next day and settle defensive positions for the night.
At 1115 hours on June 11th, the artillerymen of the 456th Field Artillery Battalion opened fire to prepare for the assault of the men of Swenson. At 1030 hours, the 2nd battalion began its assault, equipped with bayonets and rifles, from the railway line but had to cross more than 600 meters of open marshland before reaching the village of Le Ham. The artillerymen fire blindly using smoke bombs, which does not prevent the Germans from opening fire with their light and heavy weapons. Progression costs heavy losses to the Americans: the unit commander of company G, Captain Irvin Bloom, is killed. Lieutenant-Colonel Swenson and Captain Robert Dickerson, commanding officer of Company E, were wounded in the fighting. After 45 minutes of repeated assaults and despite a cruel lack of ammunition, the airborne soldiers reach the outskirts of Le Ham and the Germans gradually withdraw outside the village. The Americans reorganize after the heavy losses: during this time, they maintain a continuous fire and call on an advanced artillery observer who shoots shots at the enemy on the move.
At 5.50 pm, the 2nd Battalion of the 325th Glider Infantry Regiment received support from a rapid artillery preparation and ten minutes later, at 6 pm, it began the last phase of the assault to seize Le Ham. At 1955, after meeting a weak resistance, the Americans reached the center of the village: the Germans definitively abandoned Le Ham and moments later a reconnaissance patrol managed to secure the approaches to the bridge on the river Merderet, west of the town. In the evening, the glidermen set up a ban along the eastern bank of the Merderet.
On June 13, 1944, elements of the 359th Infantry Regiment (90th Infantry Division) replaced the 2nd Battalion of the 325th Glider Infantry Regiment.
Le Ham maps: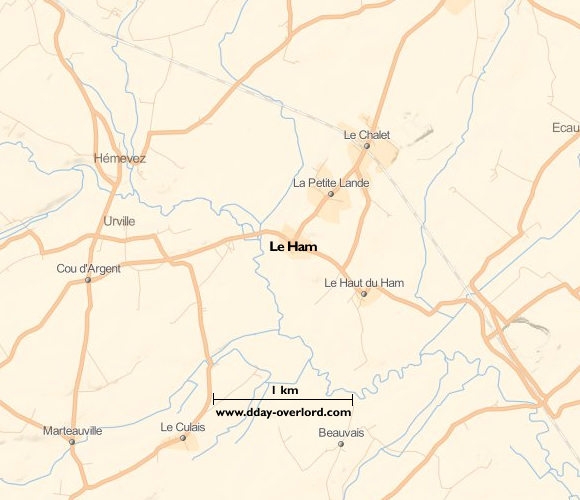 Back to the Normandy cities in 1944