Louvigny (Calvados)
The cities of Normandy during the 1944 battles
Liberation: July 11, 1944
Deployed units:

8th Reconnaissance Regiment, 14th Canadian Hussars, 2nd Infantry Division

Royal Regiment of Canada, 4th (Canadian) Infantry Brigade, 2nd Infantry Division

10th Armoured Regiment The Fort Garry Horse, 2nd Canadian Armoured Brigade

 272. Infanterie-Division

SS Panzer-Grenadier-Regiment 22, 10. SS Panzer-Division "Frundsberg"
History:
In order to seize the southern part of Caen, the British launched Operation Goodwood on 18 July 1944. Objectives were assigned to the Canadian armed forces and as Operation Atlantic. The operation was preceded by a powerful artillery fire and the Germans responded immediately. The Royal Regiment of Canada belonging to the 4th (Canadian) Infantry Brigade (2nd Infantry Division) is responsible for seizing Louvigny; The Canadians, backed by the armored 10th Armored Regiment, were opposed to elements of the 272. Infantry Division that triggered a mortar shell dam on their approach, causing several casualties and Particularly in the ranks of regimental cadres. The fighting continued throughout the day and the Royal Regiment of Canada stopped its progression for the night, settled in defensive and reorganized.
The following day, July 19, at 6 am, the Canadians renewed the offensive and discovered that the Germans had withdrawn in favor of the night. Soldiers from the Royal Regiment of Canada enjoy a quick breakfast shared with cheering locals. The assailants also seized the castle of Louvigny located to the north-east of the village.
Louvigny maps: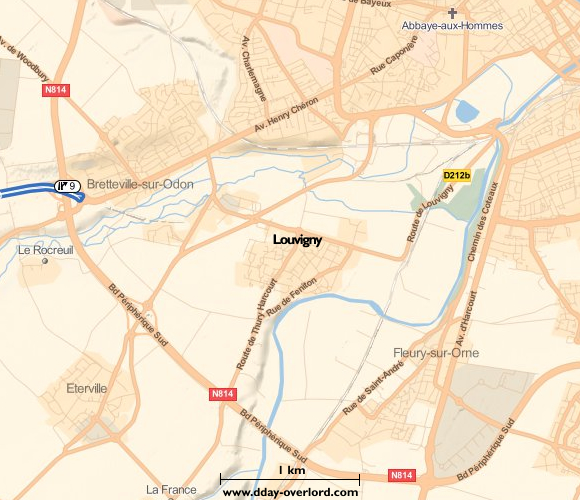 Back to the Normandy cities in 1944