Martragny (Calvados)
The cities of Normandy during the 1944 battles
Liberation: June 7, 1944
Deployed units:

  24th Lancers, 8th Armoured Brigade (Independent)

 69th Infantry Brigade, 50th Infantry Division

Royal Engineers 16th Airfield Construction Group

 Grenadier-Regiment 916, 352. Infanterie-Division

 Grenadier-Regiment 726, 716. Infanterie-Division

SS-Panzeraufklärungsabteilung 12, 12. SS Panzer-Division
History:
The sector of Martragny is occupied in 1940 by the naval forces of the French navy then by the German air force under the Occupation.
On June 6, 1944, the environs of Martragny and the village itself were beaten by the fires of the Allied naval guns. At 7 am on 7 June, the English Armored Corps (8th Armored Brigade, temporarily attached to the 50th Infantry Division) captured the airfield and the commune, followed by infantrymen belonging to the 69th Infantry Brigade. The tanks then proceeded in the direction of National Highway 13 and, after being violently attacked by elements of SS-Panzeraufklärungsabteilung 12 (12 SS Panzer-Division), they retreated to Martragny. On the 7th of June, the English installed a field hospital in the park and in the rooms of the castle of Martragny; For this purpose, they put up a large red cross on the roof to avoid any aerial bombardment.
From 14th to 26th June 1944, the engineers of the Royal Engineers 16th Airfield Construction Group built an aerodrome called ALG B-7 west of Martragny. It serves as the main base for No.133 Wing from 24 June to 19 July 1944 and then to No.123 Wing from 19 July to 3 September 1944. The facilities at this aerodrome (which is operational until 3 September 1944) are also used as ammunitions depot until the end of the war.
Martragny maps: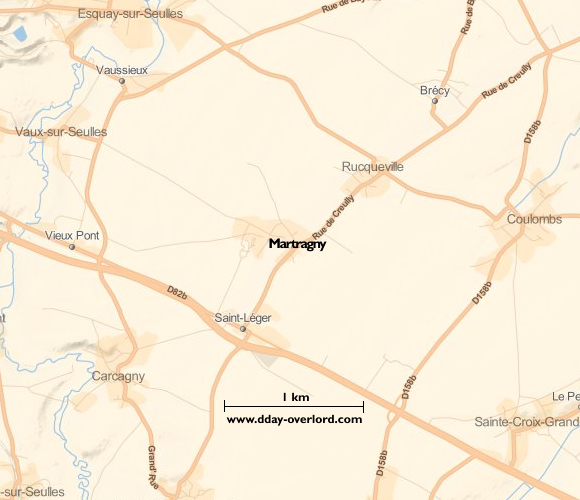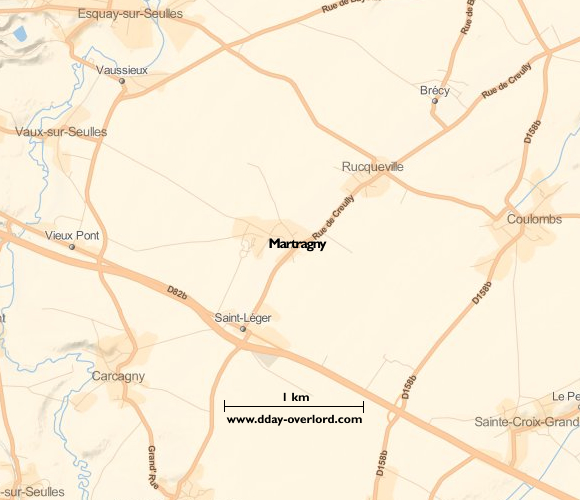 Back to the Normandy cities in 1944