Valognes (Manche)
The cities of Normandy during the 1944 battles
Liberation: June 20, 1944
Deployed units:

8th Infantry Regiment, 4th Infantry Division

Grenadier-Regiment 1057, 91. Infanterie-Division

Grenadier-Regiment 729, 709. Infanterie-Division
History:
Valognes represents for the Americans the last lock before Cherbourg and the Germans are aware of it. On the evening of June 19, 1944, the 8th Infantry Regiment (4th Infantry Division) commanded by Colonel James A. Van Fleet had to cross National Highway 13 and get in position east of Valognes. Place at dusk and take defensive positions for the following hours. The next morning, June 20th, patrols of the 1st Battalion (commanded by Lieutenant-Colonel Conrad C. Simmons) reconnoitered through the ruins of the city and reported on their return that the Germans had abandoned Valognes. In fact, the city was abandoned as of June 17 and the last elements retreated on the night of June 19 to 20 to focus on Cherbourg's defense. However, the destruction caused by the bombing is such that the progress through the streets is difficult, especially for vehicles. Throughout the morning, the 8th Infantry Regiment traverses Valognes with great difficulty in order to resume as quickly as possible the advance towards the north.
Through the ruins of Valognes, the Americans discovered the vestiges of the Wn 544 strongpoint where the Germans of the 709. Infanterie-Division had installed a communications center in several buildings and in particular in a Regelbau R618 type bunker. After the Cotentin was liberated, the Allies installed their own telephone exchange (equipped with BD-132A relays ) in the city, which remained operational after the Battle of Normandy, and a transit camp for German prisoners before they were sent to Great Britain.
Valognes maps: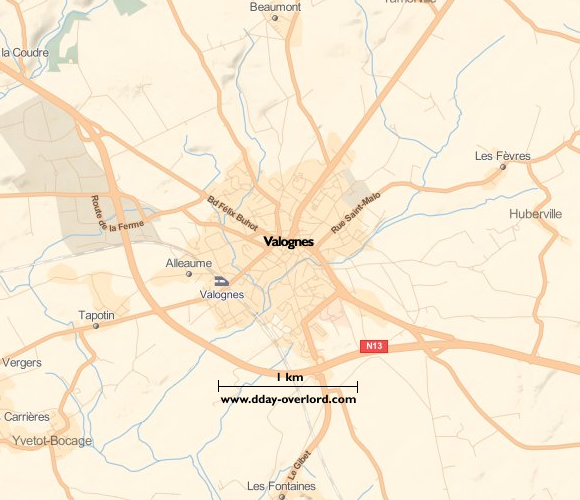 Back to the Normandy cities in 1944
DDay-Overlord.com – Reproduction subject to authorization of the author –
Contact