The Pegasus Diaries: The Private Papers of Major John Howard DSO
John Howard's name will forever be linked to the highly successful Pegasus Bridge assault by his glider-born company of the Oxfordshire and Buckinghamshire Light Infantry. His men regarded him with awe and his courage and toughness were bye-words. However this book reveals the human side of the man as well as providing a graphic account of the preparation, actual operation and aftermath of this iconic raid.The Pegasus Diaries is a book that will be enjoyed by men and women alike, presenting as it does a complex man often torn between his high sense of loyalty to his men and devotion to duty.
by John Howard

Parachute Infantry
Paratrooper David Kenyon Webster jumped into the chaos of occupied Europe on D-Day, fighting his way through Holland and finally capturing Hitler's Eagle's Nest. He was the only member of Easy Company (101st Airborne Division – 506th Parachute Infantry Regiment) to write down his experiences as soon as he came home from war. Webster records with visceral and sometimes brutal detail what it is like to take a bullet in the leg, to fight pitched battles capturing enemy towns, and to endure long periods of boredom punctuated by sudden moments of terror. But most of all, Parachute Infantry shows how a group of comrades entered the furnace of war and came out brothers
by David K. Webster

If You Survive: From Normandy to the Battle of the Bulge to the End of World War II
"If you survive your first day, I'll promote you." So promised George Wilson's World War II commanding officer in the hedgerows of Normandy — and it was to be a promise dramatically fulfilled. From July, 1944, to the closing days of the war, from the first penetration of the Siegfried Line to the Nazis' last desperate charge in the Battle of the Bulge, Wilson fought in the thickest of the action, helping take the small towns of northern France and Belgium building by building.
by George Wilson

Brothers in Battle, Best of Friends
William "Wild Bill" Guarnere and Edward "Babe" Heffron were among the first paratroopers of the U.S. Army members of an elite unit of the 101st Airborne Division called Easy Company. The crack unit was called upon for every high-risk operation of the war, including D-Day, Operation Market Garden in Holland, the Battle of the Bulge, and the capture of Hitler's Eagle's Nest in Berchtesgaden. Both men fought side by side until Guarnere lost his leg in the Battle of the Bulge and was sent home. Heffron went on to liberate concentration camps and take Hitler's Eagle's Nest hideout. United by their experience, they reconnected at the war's end and have been best friends ever since. Their story is a tribute to the lasting bond forged between comrades in arms and to all those who fought for freedom.
by William Guarnere and Edward Heffron

Tank Action: An Armoured Troop Commander's War 1944–45
In 1944, David Render was a nineteen-year-old second lieutenant fresh from Sandhurst when he was sent to France. Joining the Sherwood Rangers Yeomanry five days after the D-Day landings, the combat-hardened men he was sent to command did not expect him to last long. However, in the following weeks of ferocious fighting in which more than 90 per cent of his fellow tank commanders became casualties, his ability to emerge unscathed from countless combat engagements earned him the nickname of the 'Inevitable Mr Render'.
by David Render

Panzer Ace: The Memoirs of an Iron Cross Panzer Commander from Barbarossa to Normandy
Richard Freiherr von Rosen was a highly decorated Wehrmacht soldier and outstanding panzer commander. His memoirs are richly illustrated with contemporary photographs, including key confrontations of World War II. After serving as a gunlayer on a Pz.Mk.III during Barbarossa, he led a Company of Tigers at Kursk. Later he led a company of King Tiger panzers at Normandy and in late 1944 commanded a battle group (12 King Tigers and a flak Company) against the Russians in Hungary in the rank of junior, later senior lieutenant (from November 1944, his final rank.)
by Richard Freiherr von Rosen

Devils Own Luck: Pegasus Bridge to the Baltic 1944-45
Although strictly forbidden to keep diaries, Denis Edwards managed to record his experiences throughout nearly all his time in Europe in 1944-45. He brilliantly conveys what it was like to be facing death, day after day, night after night, with never a bed to sleep in nor a hot meal to go home to. This is warfare in the raw ' brutal, yet humorous, immensely tragic, but sadly, all true.
by Denis Edwards

By Tank Into Normandy
A World War II tank commander gives a direct, harrowing, and exciting account of fighting at the invasion front. On June 4, 1944, 20-year old Stuart Hills, fresh from Officer Cadet Training, went to war. Two days later, his tank sunk. Then came the struggles through Normandy in a replacement tank and a constant round of close encounters with the enemy—which swiftly turned Hills into a master of tank warfare. A remarkable story of survival.
by Stuart Hills

D-Day to Victory: The Diaries of a British Tank Commander
Tank Commander Sgt Trevor Greenwood of C Squadron, the 9th Royal Tank Regiment, sailed for France in June 1944 as part of the Allied invasion of Normandy. From D-Day until April 1945, he kept a daily diary of his experiences of the final push through France and into Germany, often writing in secret and in terrible conditions. His astonishing diary has left us a unique record of the war in Europe from the rarely-seen perspective of an ordinary soldier.An accompanying essay about the tank battles of Normandy by Duxford Museum's tank expert provide added value.
by Trevor Greenwood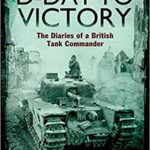 Beyond Band of Brothers: The War Memoirs of Major Dick Winters
In this remarkable World War 2 memoir, Dick Winters tells the tales left untold by Stephen Ambrose in his 1992 epic Band of Brothers. Starting with an account of the gruelling training designed to make the 506th the most elite unit in the US Army, Beyond Band of Brothers is fascinating account of one man's experience of commanding Easy Company from D-Day, to the Battle of the Bulge and into Germany. Dick Winters gives real insight into leadership under the most difficult conditions – every man in the company had been injured by the time they reached Germany – and tells the real story of the Allies' final defeat of Hitler, from the point of view of someone who was really there.
by Dick R. Winters

Panzer Commander: The Memoirs of Hans von Luck
A professional soldier, Hans von Luck joined the Panzerwaffe in its earliest days, where he served under Erwin Rommel, and went on to fight in the Blitzkrieg in Poland, France and the Soviet Union. He then served with the Afrika Korps in the Western Desert, and tells of the sometimes chivalrous relationship with the British 8th Army. After the collapse in Africa, he returned to Europe and fought throughout the Normandy campaign. After the war, he formed friendships with those who had been his opponents during the war, including Major John Howard, who had led the capture of Pegasus Bridge.
by Hans von Luck

Call of Duty: My Life Before, During, and After the Band of Brothers 
As part of the elite 101st Airborne paratroopers, Lt. Lynn "Buck" Compton fought in critical battles of World War II as a member of Easy Company, immortalized as the Band of Brothers. From his years as a two-sport UCLA star who played baseball with Jackie Robinson and football in the 1943 Rose Bowl, through his legendary post-World War II legal career as a prosecutor, in which he helped convict Sirhan Sirhan for the murder of Robert F. Kennedy, Buck Compton's story truly embodies the American Dream: college sports star, esteemed combat veteran, detective, attorney, judge.
by Lynn Compton
DDay-Overlord.com – Reproduction subject to authorization of the author –
Contact