Band of Brothers
The true story of the men of Easy Company, 506th PIR, 101st Airborne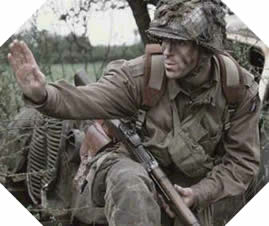 A book, a series
Band of Brothers is an American mini-series consisting of ten one-hour episodes. It was produced by Steven Spielberg and Tom Hanks and the story is taken from the book Band of Brothers, written by the famous American historian Stephen E. Ambrose, who died on October 14, 2002 at the age of 66.
Broadcast on French screens during the summer of 2002, 2004 (as part of the 60th anniversary of the Allied landings in Normandy) or even 2011, the Band of Brothers series met with great success, not only in France, but also in the United States. United, England, Italy and Germany.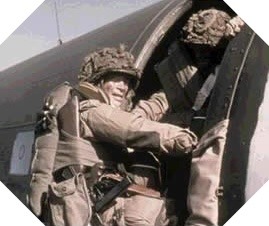 Its creation
Steven Spielberg has always been interested in the Second World War and his films prove it (1941, The Empire of the Rising Sun, The Schindler's List …). This is why he decided to shoot the very realistic film Saving Private Ryan (in French: Saving Private Ryan) which tells the story of a section going in search of Private Ryan during the Battle of Normandy, and which has met with enormous success all over the world. Saving Private Ryan had to be a success for the mini-series known in France as the Frères d'Armes to exist. As Saving Private Ryan was a success, the making of Band of Brothers began.
We can notice the similarity in filming between Saving Private Ryan and Band of Brothers with the now famous technique of "shoulder camera" which gives a very realistic impression to the film, including combat scenes. But it is above all its loyalty to History (both by the script and by the image of historical facts, inspired by the direct testimonies of the veterans concerned) that makes Band of Brothers THE series of the Second World War in Europe.
More than 10,000 extras, 500 actors and a budget of more than 114 million euros were necessary for its realization which made this series the most expensive in all history at the time of its release on the screens.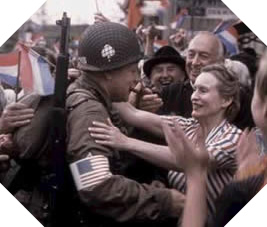 Composition
Band of Brothers is made up of ten episodes of approximately one hour each, which begin with the training of American soldiers from the Easy Company of the 506th regiment of the 101st Airborne Division and which end with the operation to take the nest. of Hitler's eagle in Bavaria. The series also covers the Battle of Bastogne (in the Ardennes) and the discovery of the Landsberg concentration camp in Germany.
DDay-Overlord.com – Reproduction subject to authorization of the author –
Contact