Kurzer 8 cm Granatwerfer 42 light mortar

History, technical sheet and photo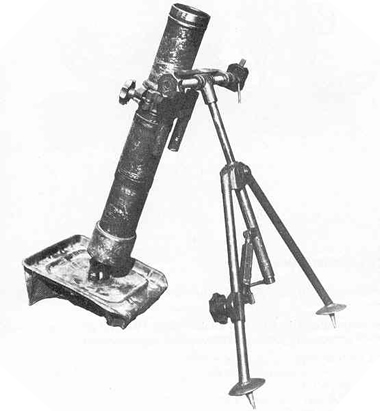 Granatwerfer 42 light mortar history

The antiquity of the German mortar 8 cm Granatwerfer 34 (GrW 34) and the inefficiency of the 5 cm Granatwerfer 36 (GrW 36) prompted the Germans to develop a new infantry mortar during the Second World War, Airborne.
The model used to inspire the development of this new mortar is the GrW 34 model: the caliber is identical (81.4 mm) but the tube is shortened by 39.6 cm, which reduces the maximum range of the shot. Twice as heavy as model 34, it consists of three transportable loads on the back of a man: an all-round base plate, a bipod and a smooth core tube.
This mortar entered the German Army in 1942 and gradually replaced GrW 36. GrW 42 is used along the Atlantic Wall on defensive positions in fortune. Easily transportable, it equips the German land forces throughout the battle of Normandy.
Granatwerfer 42 light mortar specification

Creator/User: Germany
Denomination: Kurzer 8 cm Granatwerfer 42 – kz GrW 42
Production years: 1941-1945
Caliber: 81,4 mm
Maximum firing range: 1,100 m
Maximum rate of fire: 15-25 rounds/min
Total weight: 26,5 kg
Barrel length: 74,7 cm
Traverse: 360°
Elevation: + 40° to + 90°
Shell payload: 3,5 kg