North American B-25 Mitchell
History, technical sheet and photo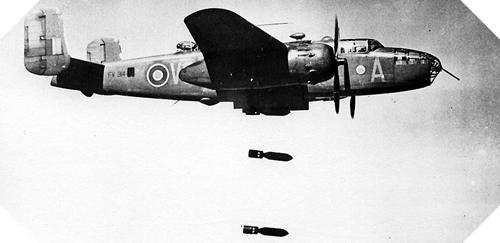 B-25 Mitchell history

At the beginning of the Second World War, American military engineers decided to equip the U.S. Air Force with a new light bomber.
Thus, in September 1939, a first aircraft was drawn and its prototype was manufactured, and a few months later, in 1941, the American Air Force received the first light bombers known as B-25 Which are immediately equipped for active service.
The B-25, built by the North American company, is a light-hearted, lightweight, part of the Second World War conflict in many missions such as strategic bombing, maritime patrols and anti-submarine warfare.
The B-25 Mitchell is immortalized by the retaliatory raid after the Pearl Harbor attack launched by US Lieutenant-Colonel James Doolittle on 18 April 1942 by bombing Tokyo with sixteen B-25 aircraft.
More than 9,800 medium-sized B-25 Mitchell bombers were built throughout the Second World War.
B-25 Mitchell specification

Creator/User: United States of America
Denomination: North American B-25 J Mitchell
Length: 15,54 m
Wingspan: 20,60 m
Height: 4,80 m
Unloaded weight: 9,571 kg
Maximum speed: 443 km/h
Operational range: 2,050 km
Ceiling: 7,620 m
Armament: twelve 12,7 mm Browning machine guns
Transport capacity: 1,815 kg of bombs
Crew: 6 (pilot, co-pilot, navigator/bombardier, turret gunner/engineer, radio operator/waist gunner, tail gunner)
Powerplant: two Wright Cyclone R-2600-13, 1 850 hp each
DDay-Overlord.com – Reproduction subject to authorization of the author –
Contact