Glen Martin B-26 Marauder
History, technical sheet and photo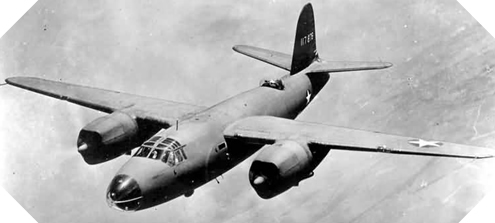 Glen Martin B-26 Marauder history

A few months before the Second World War, U.S. Air Force wanted to equip its fleet of strategic bombers with a new medium-sized, twin-engine aircraft. The study of such an aircraft began immediately and once the prototype was validated, the bomber named B-26 entered service in 1939.
Deployed on December 8, 1941, the day after the Japanese attack on the American base of Pearl Harbor, the B-26 is engaged on most fronts of the Second World War and mainly in Europe. He is then nicknamed "the Widow Maker", because of its extraordinary efficiency during the bombings.
This fast and handy device strikes quickly and well: very often, during attacks by B-26 Marauder, the anti-aircraft defense batteries do not have time to react. Thus, this bomber is the allied aircraft that is the least killed of all the Second World War.
5,157 copies of B-26 are produced in total. Numerous versions of the B-26 Marauder were manufactured between 1941 and 1945, namely models of anti-submarine warfare (the B-26s are equipped with torpedoes, which is unique in the history of American bombers of that period), maritime patrols and meteorological information.
Glen Martin B-26 Marauder specification

Creator/User: United States of America
Denomination: Glen Martin B-26 B Marauder
Length: 17,75 m
Wingspan: 19,81 m
Height: 6,05 m
Unloaded weight: 12,000 kg
Maximum speed: 510 km/h
Operational range: 1,850 km
Ceiling: 7,200 m
Armament: six 12,7 mm Browning machine guns
Transport capacity: 1,500 kg of bombs
Crew: 7 (2 pilots, bombardier, navigator/radio operator, 3 gunners)
Powerplant: Pratt & Whitney R-2800-43 18-cylinder, air-cooled radial engines with two-speed superchargers, 1,920 hp each at takeoff and 1,490 hp each at 14,300 feet
DDay-Overlord.com – Reproduction subject to authorization of the author –
Contact