Piper L-4 Grasshopper history
In 1929 in the United States, as the economic crisis erupted, engineers and manufacturers joined forces to continue production but at lower cost. In the field of aviation, engineer Clarence G. Taylor imagined a light and economic tourism plane, which structure was essentially made out of wood. The first flight of the prototype took place in September 1930: concluding, the model was adopted and baptized "Taylor Cub".
In December 1930, businessman William T. Piper bought the Taylor company, without questioning the production of the small monoplane. Real commercial success, the "Cub" was renamed "Piper J-3": in 1938, while its unit price was just over $ 1,000, it had already sold 700 copies.
The first to be interested in this light aircraft are not the US Armed Forces, but the Mexican Air Force for the surveillance of its borders from 1939. However, the US Civil Aviation selected the "Piper Cub" as its main training plane. In 1940 (when 3,016 copies were shipped from the factory), it only took twenty minutes to build a Piper J-3.
A few months before the United States went to war against Germany and Japan in 1941, the Piper was selected in June following a call to equip the US Army Air Corps with an aircraft allowing  to embark observers to correct artillery fire. Originally designated as O-59 ("O" recalling its role as observer), the monoplane then took the name L-4 ("L" for liaison) from April 1942.
Nicknamed "Grasshopper", the Piper L-4 was engaged in all theaters of operations of the US Army during the Second World War. On June 6, 1944, it was engaged to correct the shots of the Allied Navy. Throughout the battle of Normandy, it continued to inform Allied gunners while participating in the transport of authorities. Particularly lightweight, it was capable of taking off over a very short distance and did not require any particular track liner. Used by the British as well, the Piper L-4 was also equipped with improvised supports or allowed the carrying of anti-tank rocket launchers (such as Bazooka), allowing bold ground attacks.
After the Second World War, the aircraft was used by the Americans during the Korean War, which could also evacuate casualties. France also used Piper L-4 during the Algerian war, until 1953. Today, the "Grasshopper" is a vintage aircraft that regularly participates in the commemorations of the battles of the Second World War.
Piper L-4 Grasshopper technical sheet
Creator: United States of America
Denomination: Piper L-4 "Grasshopper"
Total number of copies built: 20 038 (from 1938 to 1947)
Length: 6,71 m
Wingspan: 10,74 m
Height: 2,03 m
Unloaded weight: 331 kg
Maximum speed: 137 km/h
Operational range: 306 kilometers
Ceiling: 2 835 m
Crew: 2
Powerplant: one Continental O-170-3 four-cylinder flat engine developing 65 horsepower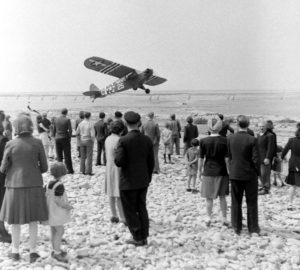 Takeoff of a Piper L-4 from the beach of Grandcamp-les-Bains, under the eyes of the inhabitants.
Photo : US National Archives
DDay-Overlord.com – Reproduction subject to authorization of the author –
Contact