CG-4A Waco glider – "Hadrian"

History, technical sheet and photo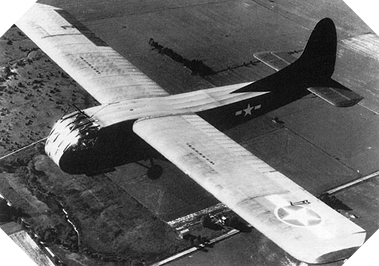 Waco glider history

It is within the framework of preparations of airborne invasions that gliders are imagined. They are capable of carrying around 30 equipped soldiers or lightweight equipment like Jeep or short cannons.
Developed at the beginning of the Second World War, the Waco is a less than two-tonne sailplane constructed of wood and metal by the American firm Waco Aircraft Company located in Troy, Ohio.
Trailed by bombers or Douglas C-47 aircraft, the Waco glider must break its trailer once close to its landing zone. For a few minutes, it then glides silently in the sky before landing nearest to the objective. Once on the ground, light equipment such as a towed cannon or command vehicle exits through the nose of the aircraft that is being lifted, while the soldiers leave the glider through doors on the sides of the aircraft. Unusable once on the ground because often partially damaged, the Waco are then generally destroyed.
The Waco glider can carry 13 armed soldiers, in addition to the pilot and co-pilot. Used for the first time during the invasion of Sicily in July 1943, many Waco gliders were also employed in Normandy during Operation Overlord, on June 6, 1944, west of the landing beaches. The breakage is then very important and the deaths very numerous, the aircraft crashing at landing especially against the imposing Norman hedges.
Waco glider specification

Creator/User: United States of America
Denomination: Waco CG-4A "Hadrian"
Length: 14,88 m
Wingspan: 18,95 m
Height: 3,84 m
Unloaded weight: 1,814 kg
Maximum speed: 290 km/h
Transport capacity: 13 equipped soldiers
Crew: 2 pilots
DDay-Overlord.com – Reproduction subject to authorization of the author –
Contact