D-Day cricket

History, technical sheet and photo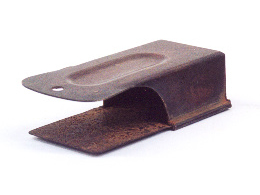 D-Day Cricket history

After the parachute over Sicily in 1943, Major Taylor, the future commander of the 101st American Airborne Division, realized the importance of communication within the parachuted units in enemy territory. Indeed, scattered in many places, isolated parachutists had difficulty in finding their comrades without risking to expose themselves to the enemy fire.
The Americans re-used the principle of a toy widespread at the time and which consisted of a spring steel blade squeezing once pressed. Indeed, the English firm THE ACME has received orders from several thousand small parallelepipedic brass crickets, some of them made of chrome-plated brass.
Only the 101st Airborne Division was equipped with crickets, and only the paratroopers of the division received it as an endowment a few days before June 6, 1944. In addition to this means of recognition, a voice code was developed (valid during 24 hours following the start of operations): "Flash", word to which it was necessary to answer "Thunder". On the second day, the code became "Hustle"-"Along". Other means of identification existed: smoke (colored or not), panels, light or flags.
Paratroopers were free to hang their cricket wherever they wished. Some kept it in the pockets of their jackets or trousers, others hung it around their necks or their helmets.
Nowadays, many reproductions have been produced and it is not uncommon to hear the famous "clic-clac" at the commemorative ceremonies in Normandy.
D-Day Cricket specification

Creator/User: United States of America
Provided unit: 101st Airborne Division
Height: 15 mm
Length: 48 mm
Width: 25 mm
Use: A pressure on a metallic lamella emitting a "click-clack" to request identification; The answer had to consist of a double pressure on the metallic lamella or two "clic-clac".
Cricket replica: click here to order a cricket replica