Jagdpanther V tank destroyer

History, technical sheet and photo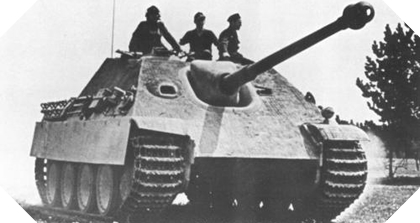 Jagdpanther V tank destroyer history

At the end of 1942, Germany was faced with a lack of economic and industrial resources in the construction of armored vehicles, and German military engineers were instructed to create a new, efficient but low-cost tanker .
The study of this new tanker began in October 1942. A first prototype was then manufactured in October 1943: the chassis was that of the Panther tank, the principle of the turret was suppressed for reasons of cost, while the cannon Used is a Pak 43 of 88 mm (L / 71 Pak 43), particularly effective, protected by the mask "pig snout" ("Saukopf"). This craft bears the name "Jagdpanther V", "Jagd" meaning "hunter" in German.
The production began three months later in January 1944, and the first copies were delivered in June 1944, at the very moment when the Allies landed in Normandy. Although only deployed in this region (only the 2nd company of the 654. Schwere-Panzerjäger-Abteilung is equipped with Jagdpanther), they fulfill their mission perfectly and on the one day of July 30, 1944, fourteen Churchill tanks of the 6th Guards Armored Brigade Are destroyed for the loss of only two Jagdpanther in the Caumont area. However, the German tank fighters were all reduced to ashes by the Allied Air Force in the following days and none managed to cross the Seine during the general withdrawal of the forces of the Third Reich.
Only 392 units were built from January 1944 to March 1945, but the Jagdpanther was one of the most successful German tank fighters in the entire Second World War.
Jagdpanther V tank destroyer specification
Creator/User: Germany
Denomination: Nahverteidigungsgerät "Jagdpanther" V – SdKfz 273
Number produced: 382
Length: 9,87 m
Width: 3,27 m
Height: 2,72 m
Weight: 45,500 kg
Maximum speed: 55 km/h
Operational range: 257 km
Main armament: one 8,8 cm Pak 43 L/71 gun
Secondary armament: one 7,92 mm MG 34 machine gun
Engine: Maybach HL 230 P 30, 700 hp
Consumption: 280 liters per 100 kilometers
Crew: 5 (commander, driver, assistant-driver, radio operator, gunner)
Front armor: 100 mm
Rear armor: 16 mm

Back to the Battle of Normandy tanks
DDay-Overlord.com – Reproduction subject to authorization of the author –
Contact