HMCS Sioux
Index of Allied warships during Operation Neptune
History, technical sheet and photo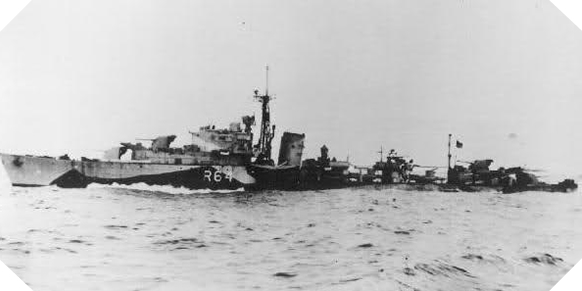 HMCS Sioux history
When the Second World War broke out in Europe, Great Britain became heavily dependent on maritime supplies, which became the prey of German submarines. In order to ensure their safety, the British strengthened their navy and launched the production of several class V destroyers. HMS Vixen was launched on 14 September 1943.
Five months later, this warship was given to Canada, which baptized it HMCS Sioux and integrated it into the Home Fleet. Escorting convoys in the North Sea and participating in bombardments of the coastal batteries in Norway, it was deployed in the spring of 1944 along the British coasts to participate in Operation Neptune.
On June 6, 1944, alongside the HMCS Algonquin, it escorted the troop transport ships from the naval force J off Juno Beach and participated in the bombing of German positions on the beach and inland. It assured this mission of escort and bombardment during the days following the launch of Operation Overlord.
Continuing its missions of escorts and patrols, the Sioux was engaged in February 1945 in Norway to evacuate the population of a village taken hostage by the Germans.
Entirely modernized after the Second World War, the destroyer was deployed during the Korean War from 1950 to 1952 before being retired from service and sold for scrap in August 1965.
HMCS Sioux technical sheet
Creator: Great-Britain
User: Canada
Denomination: H.M.C.S. Sioux
Class: Valentine-class destroyer
Crew: 230 sailors
Armament (1944): 4x 120 mm guns, 6x 20 mm Oerlikon guns, 2x 533 mm torpedo tubes, 2x 305 mm Squid mortars
Displacement: 1,710 tonnes
Speed: 36 knots
Length: 110,59 m
Beam: 10,87 m
Draught : 3,51 m