HMS Durban
Index of Allied warships during Operation Neptune
History, technical sheet and photo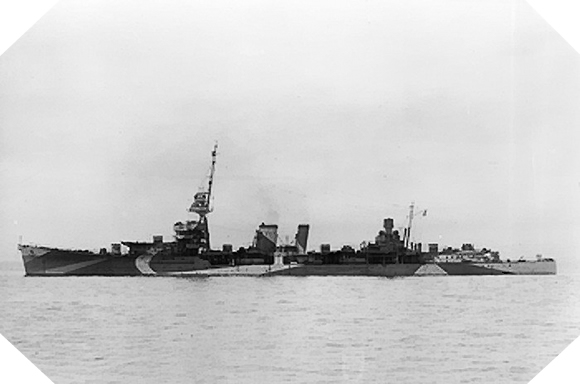 HMS Durban history

Construction of the H.M.S. (Her Majesty Ship) Durban began in January 1918, the last year of the First World War. Launched on May 29, 1919, this light cruiser of class Danae enters active service on November 1, 1921.
Deployed initially in the China Sea in the 5th Light Cruiser squadron, it subsequently served along the American coasts before returning several times to the English Channel. Deployed in 1933 in the Mediterranean, it was placed in reserve from September 1936.
Back in active service when World War II broke out in Europe, it operated in the South Atlantic within the 9th Cruiser Squadron, then in the Indian Ocean and in the Southeast Asian seas where it escorted numerous convoys and tracked down German merchant ships. In February 1942, the Durban was damaged by a Japanese attack and had to be repaired in the port of New York.
In November 1943, it returned to Great Britain to be placed in reserve. It was maintained in working order in the port of Oban in Scotland with a view to its participation in Operation Neptune as a breakwater of the artificial port of Arromanches. On June 6, 1944, it anchored off Hermanville-sur-Mer and then, two days later, it scuttled within the Gooseberry 5 breakwater complex, lying at eleven meters below sea level.
A German torpedo launched from a Marder hit the Durban wreck on 3 August 1944.
HMS Durban technical sheet

Creator/User: Britain
Denomination: D 99 – H.M.S. Durban
Class: Danae-class light cruiser

Crew: 350 sailors
Armament (1944): 6x 152,4 mm guns, 2x 76,2 mm guns, 2x 40 mm pom-pom anti-aircraft guns and 12x 533 mm torpedo tubes
Displacement: 4,650 tons
Speed: 29 knots
Length: 144 m
Beam: 14,2 m
Draught: 4,4 m