HMS Eglinton
Index of Allied warships during Operation Neptune
History, technical sheet and photo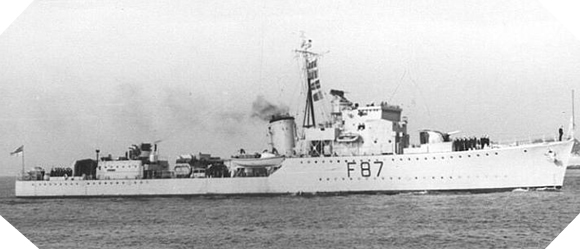 HMS Eglinton history
HMS Eglinton was launched on 28 December 1939 and entered service on 28 August 1940. After a series of sea trials, it was transferred to the Home Fleet and escorted convoys across the English Channel and into the North Sea and repeatedly hunting German E-Boote speedboats, notably on 24 October 1943.
In May 1944, it returned to Great Britain to prepare for Operation Neptune. As part of Task Force D, it escorted high-tonnage warships and troop transports on the night of 5-6 June 1944 in the direction of Sword Beach and then participated in the bombing of German positions in this area at dawn. The next day it refueled at Portsmouth and then returned to Normandy on 8 June, escorting a convoy of reinforcements. It remained in the area until 27 June before resuming its escort missions in the North Sea to protect and control this maritime area.
Removed from service after the Japanese surrender, it is placed in reserve at Harwich Harbor. While it was to be rehabilitated in 1955, it was finally sold to be scrapped in 1956.
HMS Eglinton technical sheet
Creator/User: Great-Britain
Denomination: L 87 – H.M.S. Eglinton
Class: Hunt Type II-class escort destroyer
Crew: 164 sailors
Armament (1944): 6x 101,6 mm guns, 4x 40 mm anti-aircraft guns, 2x 20 mm guns
Displacement: 1,450 tons
Speed: 27 knots
Length: 85,3 m
Beam: 9,6 m
Draught : 2,51 m