HMS Emerald
Index des navires alliés pendant l'opération Neptune
Histoire, fiche technique et photo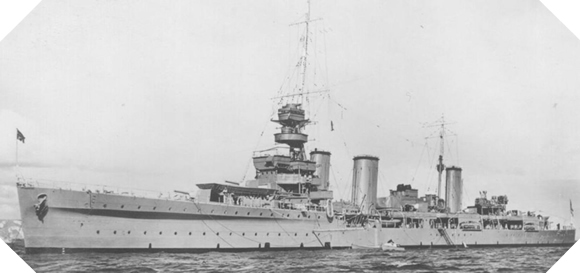 H.M.S. Emerald history
The light cruiser H.M.S. (Her Majesty Ship) Emerald was launched on September 23, 1918 in Newcastle-on-Tyne, less than a month before the end of the First World War, and entered into active service as of January 14, 1926. Assigned to the 4th Flotilla cruisers, it is deployed in the Indian Ocean until 1937, when it is renovated.
When the Second World War broke out, HMS Emerald served in the 12th flotilla of cruisers, including patrols in the North Sea. Once again deployed in the Indian Ocean in 1941, it escorted troop convoys bound for the Middle East and then en route to the Southeast Asian seas after the Pearl Harbor attack on December 7, 1941.
From August 1942, it was renovated in England and did not return to service until April 1943. The Emerald participated in Operation Neptune and operated on June 6, 1944 off Gold Beach by bombing German batteries in particular the Arromanches sector. During the days following the Normandy landing, it provided fire support for the Anglo-Canadian troops advancing west of the Caen region.
In January 1945, it was placed in the reserve unit for two years before being removed from service. It is finally scrapped in the United Kingdom in July 1948.
H.M.S. Emerald technical sheet
Creator/User: Great-Britain
Denomination: D 66 – H.M.S. Emerald
Class: Emerald-class light cruiser
Crew: 572 sailors
Armament (1944): 5 x 152 mm cannons, 2 x 37/40 mm anti-aircraft pom-pom guns, 4 x 40 mm pom-pom guns, 6 x 20 mm anti-aircraft two-tube guns, 6 x 20 mm guns, 8 x 533 mm torpedo tubes
Displacement: 9,435 tons
Speed: 33 knots
Length: 170 m
Beam: 16,6 m
Draught: 5 m