HMS Erebus
Index of Allied warships during Operation Neptune
History, technical sheet and photo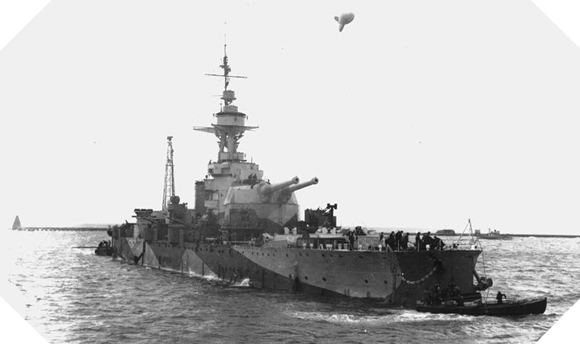 H.M.S. Erebus history

The H.M.S. (Her Majesty Ship) Erebus was launched on 12 October 1915 during the First World War and entered active service on 2 September 1916. Deployed in the English Channel, it participated in the bombing of the Belgian ports where warships were based before being seriously damaged on 28 October 1917.
During the inter-war period, it took part in the British intervention in the context of the Russian civil war. Only a few weeks before the beginning of the Second World War in Europe, HMS Erebus was modernized in the United Kingdom and then operated in the Mediterranean Sea until 1943, participating in the Battle of Tobruk and the amphibious operation off Sicily.
At the beginning of 1944, it was deployed in the English Channel to participate in Operation Neptune. Its priority mission on June 6, 1944 was to bombard the German batteries of Barfleur and La Pernelle. During the shooting it lost one of its 381 mm guns following the premature explosion of a shell.
At the end of the Normandy campaign, in August 1944, HMS Erebus made its way to Le Havre to support the advance of the allied land forces and to contribute to the fall of the city. However, it was damaged by the shots of the Clos des Ronces battery and was immobilized a few weeks in order to be repaired.
In November 1944, it participated in its last maritime firefighting operation as part of Operation Infatuate off Holland.
Retired from active service after the end of the Second World War, HMS Erebus was scrapped in July 1946.
H.M.S. Erebus technical sheet

Creator/User: Britain
Denomination : I 02 – H.M.S. Erebus
Class: Erebus-class monitor

Crew: 226 sailors
Armament (1944): 2x 381 mm guns, 8x 101,6 mm guns, 4x 76,2 mm anti-aircraft guns, 2x 40 mm guns, 4x heavy machine guns
Displacement: 7,200 tons
Speed: 12 knots
Length: 123,4 m
Beam: 26,8 m
Draught: 3,56 m