HMS Frobisher
Index of Allied warships during Operation Neptune
History, technical sheet and photo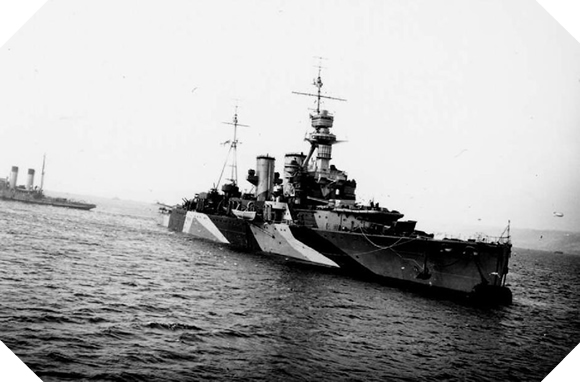 H.M.S. Frobisher history

The heavy battleship H.M.S. (Her Majesty Ship) Frobisher of the Hawkins class was launched on August 2, 1916, in Devenport during the First World War, and entered active service on September 20, 1924. Deployed in the Mediterranean sea as flagship of the 1st flotilla of battleships, it also operates in the China Sea and in the Atlantic Ocean during the Interwar period.
Constantly renovated and re-armed, it was placed in reserve from November 1930 and then as a training vessel for the British Navy's officer cadets until 1939. When World War II broke out in Europe, Frobisher was modernized to to meet the new needs of the maritime battles of the time.
Assigned to the 4th Cruiser fleet in March 1942, it operated in the Indian Ocean and carried out a number of convoys escorts. In March 1944 it was deployed in the English Channel to take part in Operation Neptune. On June 6, 1944, it traveled with S-force in the direction of Sword Beach and bombarded the German positions in the Riva-Bella area.
During the first days of the Battle of Normandy, HMS Frobisher supported the advance of Allied land forces north of Caen. In August 1944, it was damaged by a German torpedo launched from an E-Boot, a particularly fast torpedo boat. Returning to the United Kingdom, it was disarmed and resumed its role as an officer cadet training ship before being scrapped in May 1949.
H.M.S. Frobisher technical sheet

Creator/User: Britain
Denomination: D 81 – H.M.S. Frobisher
Class: Hawkins-class heavy cruiser

Crew: 800 sailors
Armament (1944): 7x 190 mm guns, 3x 76,2 mm guns, 4x 76,2 mm anti-aircraft guns, 2x 40 mm guns, 6x 210 mm torpedo tubes (two of which are located below the waterline)
Displacement: 12,190 tons
Speed: 31 knots
Length: 184 m
Beam: 18 m
Draught: 6,2 m