HMS Fury
Index of Allied warships during Operation Neptune
History, technical sheet and photo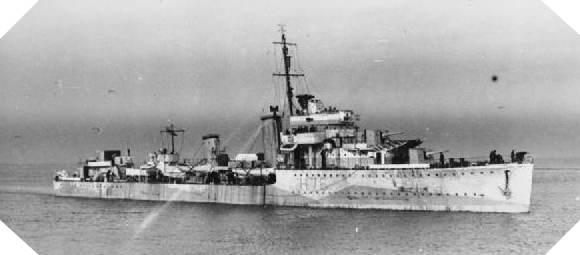 HMS Fury history
The construction of the HMS Fury begins on 19 May 1933 and this class F destroyer is launched on 10 September of the following year.
Originally engaged in the service of Home Fleet, which protects the British coasts, it participates in patrols and escorts of convoys across the English Channel. During the Spanish War, it also patrols off the Basque country and the Mediterranean Sea.
When the Second World War broke out, it patrols the English Channel and the North Sea, escorting multiple English warships. In July 1940 it joins the 8th flotilla within Task Force H based in Gibraltar and participats in the Dakar attack and various operations along the coasts of West Africa until October. Subsequently, it escorts numerous convoys across the Atlantic and the cold Arctic waters.
On its return to the Mediterranean Sea, it takes part in the landing operations of Sicily (Operation Husky) and Salerno (Operation Avalanche) before returning to England for maintenance.
In May 1944, he joined the Bombarding Force E (which is under the command of Task Force J) to take part in Operation Neptune off Normandy. On the night of June 5-6, 1944, HMS Fury crosses the Channel, escorting the J1 convoy heading to Juno Beach. On D-Day, it participates in the naval bombardment by attacking the German positions west of Courseulles-sur-Mer. Until June 20, it carries out multiple fire support and escort missions off the coast of Normandy.
| | |
| --- | --- |
| | The HMS Fury, stranded and struck a mine, is waiting to be towed in front of the cliffs of Arromanches. Photo: IWM. |
On 21 June, in the Bay of Seine, the Fury strikes an underwater mine during the storm which broke out on 19 June: it ran aground along the cliffs in front of Arromanches artificial harbor. Towed to Great Britain, it is declared to be definitively irreparable before being sold to be scrapped as of 18 September.
HMS Fury technical sheet
Creator/User: Great-Britain
Denomination: H 76 – H.M.S. Fury
Class: F-class destroyer
Crew: 145 sailors
Armament (1944): 4x 120 mm Mk IX guns, 8x 12,7 mm Vickers machine guns, 8x 530 mm torpedo tubes and 20 anti-submarine grenades
Displacement: 1,970 tons
Maximum speed: 35,5 knots
Cruising speed: 31,5 knots
Length: 100 m
Beam: 10,13 m
Draught : 3,8 m