HMS Goathland
Index of Allied warships during Operation Neptune
History, technical sheet and photo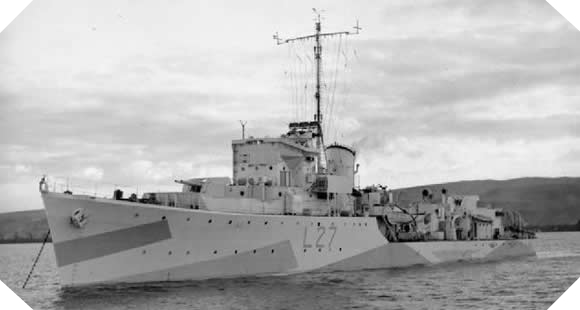 HMS Goathland history
HMS Goathland was launched on 3 February 1942 and entered service on 6 November of the same year. After a series of exercises, it escorted convoys in the Atlantic and the English Channel throughout 1943 (engaging in particular a German-Italian convoy on 28 April) and carried out patrols in the North Sea. In the spring of 1944, it returned to the coast of Great Britain to prepare for Operation Neptune.
After escorting the large battle ships of Task Force S on the night of June 5-6, 1944, it paves the way and leads Assault Group 3 on Sword Beach on D-Day. Commander Edward Nigel Pumphrey led HMS Goathland during the Battle of Normandy, using its radars on board for the benefit of the Royal Air Force pilots. It remained off Sword Beach until July 24, when it hit a mine: very badly damaged, it managed to reach Britain where repairs proved impossible.
Retired from service, it was finally scrapped in February 1946.
HMS Goathland technical sheet
Creator/User: Great-Britain
Denomination: L 27 – H.M.S. Goathland
Class: Hunt Type III-class escort destroyer
Crew: 168 sailors
Armament (1944): 4x 101,6 mm guns, 8x 40 mm guns, 2x 20 mm guns, 2x 533 mm torpedo tubes
Displacement: 1,158 tons
Speed: 27 knots
Length : 85,3 m
Beam: 10,16 m
Draught : 3,51 m