HMS Pytchley – L92
Index of Allied warships during Operation Neptune
History, technical sheet and photo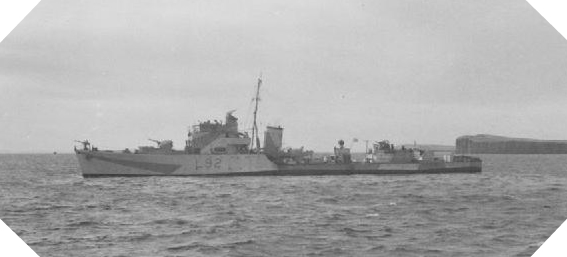 HMS Pytchley history
The HMS Pytchley was launched on 13 February 1940 and entered operational service in November of the same year. This escort destroyer then integrated the 21st fleet of destroyers and carried out several missions of escort and patrols. On June 21, 1941, it was damaged by an underwater mine (without causing loss of life) off Flamborough Head and was to be towed for repair.
Beginning in January 1942 and for more than two years, the Pytchley patrolled and escorted convoys in the North Sea to Russia. In May 1944, the destroyer was posted to Task Force G to participate in Operation Overlord. It participated in the Fabius amphibious exercise as well as several other trainings before escorting the G2 convoy on the night of June 5-6, 1944. On D-Day it took part in fire support missions to the benefit of the land forces and left the Normandy shore on 27 June to resume escort patrols in the North Sea until the end of the war.
After the Allied victory of 1945, the destroyer was deployed to support the occupation troops in Western Europe and was placed in reserve as of August 1946. Disarmed ten years later, HMS Pytchley was finally scrapped as from 1 December 1956.
HMS Pytchley technical sheet
Creator/User: Great-Britain
Denomination: L 92 – H.M.S. Pytchley
Class: Hunt Type I-class destroyer
Crew: 146 sailors
Armament (1944): 4x 101,6 mm Mk XVI guns, 4x four-barrel antiaircraft 40 mm Mk VIII pom-pom guns, 2x 20 mm Oerlikon Mk III guns
Displacement: 1,360 tons
Speed: 27,5 knots
Length: 85 m
Beam: 8,8 m
Draught : 3,27 m