HMS Roberts
Index of Allied warships during Operation Neptune
History, technical sheet and photo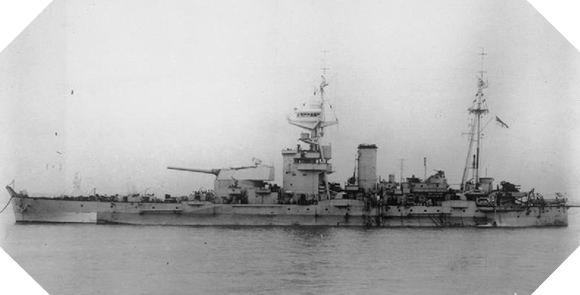 H.M.S. Roberts history

The F40 H.M.S. (Her Majesty Ship) Roberts monitor was launched on 1 February 1941 and entered into service on 27 October of the same year.
Engaged in the Mediterranean Sea, it participated in Operation Torch in November 1942 during which it was hit by two 500-kilogram bombs. Severely damaged and then repaired, it was then engaged in the Husky operation in Sicily and then in Operation Avalanche in Salerno.
| | |
| --- | --- |
| | HMS Roberts opening fire on German positions in the Sword Beach area on 6 June 1944. Photo: IWM |
At spring 1944, HMS Roberts was deployed in the English Channel as part of Operation Neptune. Integrated with the Bombardment Force D on 6 June 1944, it attacked German positions in the area of Sword Beach and more particularly the battery of Houlgate east of the Orne river. During the continuation of the Battle of Normandy, it supported by fire the Commonwealth land forces in the area of Caen until the end of July.
In 1945, HMS Roberts participated in Operation Walcheren to seize the island of Walcheren. Set aside a few years after the war, it was scrapped in 1965. One of its 380 mm guns is currently visible at the Imperial War Museum in London.
H.M.S. Roberts technical sheet

Creator/User: Britain
Denomination: F40 – H.M.S. Roberts
Class: Roberts-class monitor
Crew: 460 sailors
Armament (1944): 2x 380 mm guns, 8x 101 mm anti-aircraft guns, 16x 37 mm pom-pom guns, 20x 20 mm anti-aircraft guns
Displacement: 9 150 tons
Speed: 12,5 nœuds
Length: 114 m
Beam: 27 m
Draught: 4,11 m