HNoMS Stord
Index of Allied warships during Operation Neptune
History, technical sheet and photo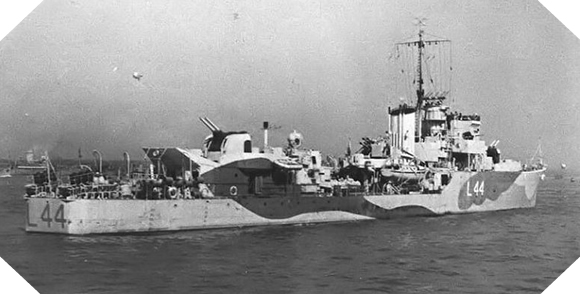 HNoMS Glaisdale history
The HNoMS Glaisdale was originally built by Great Britain as of February 4, 1941 under the name HMS Glaisdale. Transferred before the completion of construction work to the Free Royal Naval Forces of Norway on 23 December 1941, it was launched on 5 January 1942 under the name HNoMS Glaisdale.
Fully operational in June 1942, it was integrated into the 1st fleet of destroyers operating in the English Channel for the protection of the British coasts. On 13 October, HNoMS Glaisdale intervened against a German maritime convoy off Le Havre before carrying out convoy escort missions to North Africa as part of Operation Torch. After these missions, the destroyer is back in the Channel.
In the spring of 1944, it was integrated into Task Force J for the preparations for Operation Neptune off Normandy and carried out several training exercises. On the night of June 5-6, 1944, HNoMS Glaisdale escorted the J10 convoy to Juno Beach, the Canadian beach. On D-Day, it participated in the bombing of the Nan beach area. The next day, it patrolled east of the armada sector and escorted several convoys.
On 23 June, the destroyer's engines were seriously damaged by the explosion of an acoustic mine and the Glaisdale was obliged to return to Portsmouth for a general diagnosis: the decision to withdraw it from the service was taken in August. The Royal Navy then took it on its own and it was placed in reserve until the end of the war.
In August 1946, it was sold to Norway, which baptized it Narvik. It served as an escort destroyer before being reclassified as a frigate in 1956 (F 309). It was actively employed until 1962 before being permanently retired from active service and sold to be scrapped.
HNoMS Glaisdale technical sheet
Creator: Great-Britain
User: Norway
Denomination: H.Nor.M.S. Glaisdale – L44
Class: Hunt Type III-class escort destroyer
Crew: 168 sailors
Armament (1944): 4x 101,6 mm Mk VI guns, 4x four-barrel 40 mm Mk VIII pom-pom guns, 2x 20 mm Oerlikon Mk III guns, 110 underwater grenades
Displacement: 1 ,458 tons
Speed: 27 knots
Length : 85,3 m
Beam: 10,16 m
Draught : 3,51 m