HNoMS Stord
Index of Allied warships during Operation Neptune
History, technical sheet and photo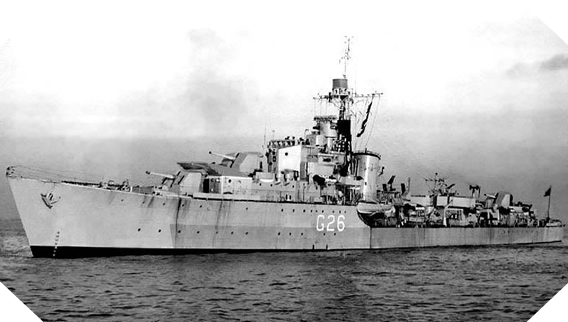 HNoMS Stord history
The HNoMS Stord was originally built by Great Britain as of February 25, 1942 under the name of HMS Success. Launched on March 3, 1943, it was ceded to the Free Royal Naval Forces of Norway on 26 August of the same year and thus named HNoMS Stord, "Stord" being the name of a Norwegian island. Its first commander was Lt. Cdr. Skule Storheil.
As part of the 23rd destroyers fleet, it participated valorously in the destruction of the German war ship Scharnhorst, sunk on 26 December 1943 during the Battle of the North Cape. In the spring of 1944, it was deployed in the English Channel as part of the preparation for Operation Neptune.
On June 6, 1944, the Stord operated within Bombarding Force D, off Sword Beach.
After the Second World War, it was officially bought by the British government in 1946 and thus returned to the Royal Navy. It was finally sold in 1959 in Belgium to be scrapped.
HNoMS Stord technical sheet
Creator: Britain
User: Norway
Denomination: H.Nor.M.S. Svenner – G26
Class: S-class destroyer
Crew: 180-225 sailors
Armament (1944): 4x 120 mm QF Mk IX guns, 2x 40 mm Bofors Mk IV guns, 6x antiaircraft 20 mm Oerlikon guns, 8x 533 mm torpedo tubes
Displacement : 2,400 tons
Speed: 36 knots
Length: 110,64 m
Beam: 10,87 m
Draught : 3 m