ORP Dragon
Index of Allied warships during Operation Neptune
History, technical sheet and photo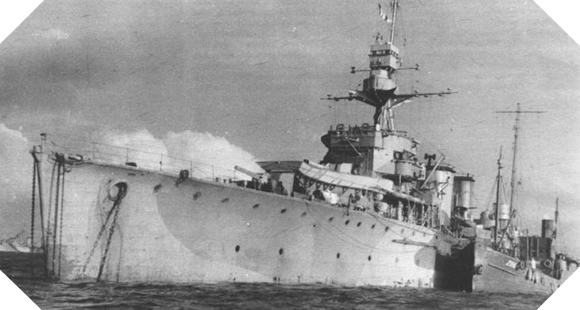 ORP Dragon history
The ORP Dragon (initially HMS Dragon) was launched in January 1917 for the benefit of the British navy. This cruiser is about to retire when the Second World War breaks out: it is deployed in the Atlantic Ocean and protects the convoys that pass through it.
The British modernized it in 1942 before handing it over to the Polish navy. Deployed in the English Channel as part of Operation Neptune, it served in Force S in the direction of Sword Beach and bombarded the Colleville-sur-Orne battery. In the days that followed, it supported the Anglo-Canadian land forces operating in the Caen region.
It makes a round trip across the English Channel to be repaired and on the night of July 7 to 8, 1944, a Neger human torpedo hits the ammunition hall, killing 37 sailors in the explosion. The Allies decided to sink the ORP Dragon on 20 July in front of Courseulles-sur-Mer at Gooseberry 4 in order to serve as a breakwater and thus facilitate sea-based refueling operations.
ORP Dragon technical sheet
Creator: Great-Britain
User: Poland
Denomination: ORP Dragon
Class: Danae-class cruiser
Crew: 480 sailors
Armament (1944): 4x 120 mm guns, 2x 40 mm guns, 6x 20 mm Oerlikon guns, 2x 533 mm torpedo tubes
Displacement: 2,090 tons
Speed: 37 knots
Length: 111 m
Beam: 11 m
Draught: 3 m
DDay-Overlord.com – Reproduction subject to authorization of the author –
Contact