USS Augusta
Index of Allied warships during Operation Neptune
History, technical sheet and photo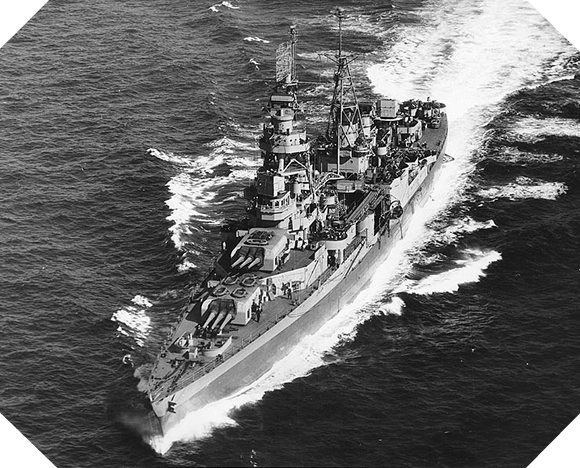 USS Augusta history

The USS Augusta entered service during the inter-war period in January 1931. Belonging to the class of heavy cruisers Northampton, it was used at the beginning of the Second World War in the Pacific.
In 1941 he became the flagship of the US maritime forces before being deployed to the Mediterranean Sea during Operation Torch in North Africa in November 1942.
| | |
| --- | --- |
| | The LCVP going to the landing beaches in front of the USS Augusta on June 6, 1944. Photo: US National Archives |
During Operation Neptune, USS Augusta is the naval flagship of the Western Task Force and includes on board both Admiral Kirk and General Bradley. Both follow the landing operations from the deck of the cruiser.
From left to right: Kirk, Bradley, Struble (twins) and Keen on D-Day on USS Augusta.

Photo: US National Archives



On D-Day, the cruiser opened fire at 6.18 am and fired 51 203 mm shells on the coast. During the continuation of the fighting in Normandy until June 18th, it had to defend himself against the adverse air attacks such as June 12th and June 13th. It supported the allied land forces before being deployed in the Mediterranean in the framework of the landing of Provence.
In September 1944 it crossed the Atlantic to be renovated in the United States. Until the end of the Second World War, it embarked many personalities like the American president Truman or the English king George VI.
Placed in reserve on July 16, 1946, it is scrapped as of November 9, 1959.
USS Augusta technical sheet

Creator/User: United States
Denomination: CA 31 – U.S.S. Augusta
Class: Southampton-class heavy cruiser
Crew: 735 sailors
Armament (1944): 9x 203 mm guns, 8x 127 mm guns, 8x 12,7 mm machine guns, 6x 6 torpedo tubes of 533 mm
Displacement: 11,450 tons
Speed: 32,7 knots
Length: 183 m
Beam: 20,15 m
Draught: 5 m