USS Bates
Index of Allied warships during Operation Neptune
History, technical sheet and photo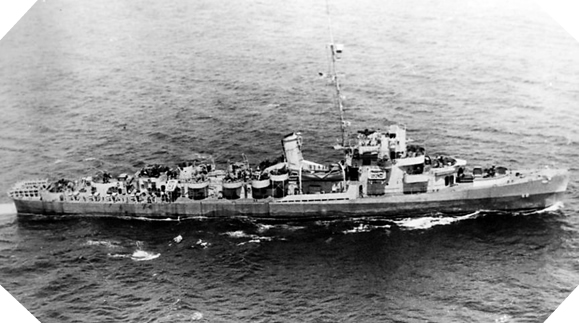 USS Bates history

The destroyer USS Bates was launched on 6 June 1943 and entered service on 13 September of the same year. After a series of sea exercises, it escorted convoys in the Atlantic Ocean until May 31, 1944, when it arrived in Plymouth to participate in Operation Neptune.
As part of Task Force 129, it operated off Utah Beach and escorted the warships and troop transports to the beach on the night of June 5-6, 1944. At dawn of D-Day, it participated in the bombing of German positions in the area. On June 8, it helped the 163 survivors of the USS Meredith which struck an underwater mine and boarded the crew on board.
The Bates returned to the United States on 21 June, escorted another convoy across the Atlantic and was transformed into a Charles Lawrence class rapid transport vessel. Once again declared operational, it was transfered on 28 October 1944 in the Pacific Ocean. It participated in the battles of Iwo Jima and Okinawa before being targeted by three Japanese kamikaze planes on 25 May 1945 at 11.15 am: 21 crew members were killed or missing during the attack and the USS Bates sank at 19 hours 23.
USS Bates technical sheet

Creator/User: United States of America
Denomination: DE 68 – U.S.S. Bates
Class: Buckley-class escort destroyer
Crew: 213 sailors
Armament (1944): 3x 76 mm guns, 4x 28 mm guns, 8x 20 mm Oerlikon guns, 9x 533 mm torpedo tubes
Displacement: 1,700 tons
Speed: 23 knots
Length: 93 m
Beam: 11 m
Draught: 3,43 m