USS Chickadee
Index of Allied warships during Operation Neptune
History, technical sheet and photo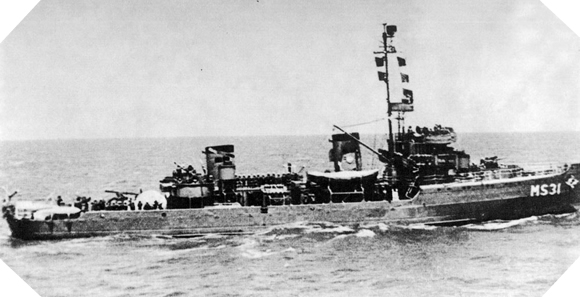 USS Chickadee history

The USS Chickadee was launched on 20 July 1942 and entered service on 9 November of the same year. After training at sea along the eastern coast of the United States, the minesweeper escorted convoys across the Atlantic Ocean until April 1944 as well as demining off the coast of Africa and the Mediterranean Sea.
In May 1944, the Chickadee joined Plymouth in preparation for Operation Neptune. On the night of June 5 to 6, it opened the way for the armada allied to the search for possible underwater mines and continued its work on D-Day and during the continuation of the Battle of Normandy. It operated off the beaches of Cotentin and in the English Channel to locate and destroy the mines, including off Cherbourg on June 25th when it was targeted by German artillerymen. It was taken out of the firing zone until the warships silenced the opposing batteries.
The minesweeper Chickadee was deployed at the beginning of August in the Mediterranean Sea and participated in the landing of Provence (Operation Dragoon). It returned to the United States only on 31 May 1945 and was retired from active service on 15 May 1946.
Transferred to the Uruguayan Navy on August 18, 1966 and named Comandante Pedro Campbell, it was updated from October 1986 to December 1989 and sailed as an oceanographic ship in Antarctica from January 15, 1991. It was definitively retired from active service on 18 March 2003 and was then used by the Uruguayan naval training schools until 2005, before being scrapped after 63 years of service.
USS Chickadee technical sheet

Creator: United States of America
Users: United States of America/Uruguay
Denomination: AM 59 – U.S.S. Chickadee
Class: Auk-class minesweeper
Crew: 100 sailors
Armament (1944): 1x 76 mm gun, 2x 40 mm guns, 8x 20 mm anti-aircraft guns
Displacement: 904 tons
Speed: 18 knots
Length: 67,44 m
Beam: 9,8 m
Draught: 3,28 m