USS Frankford
Index of Allied warships during Operation Neptune
History, technical sheet and photo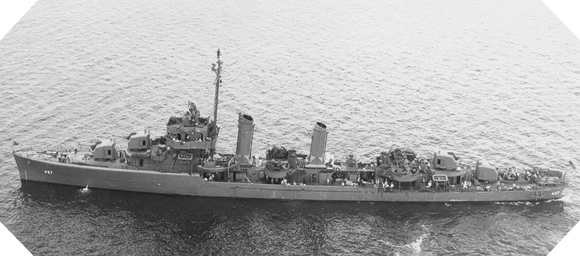 USS Frankford history
The USS Frankford was launched on 17 May 1942 and entered service on 31 March 1943. It escorted convoys in the North Atlantic and carried out several patrols as part of the fight against German submarines. On April 18, 1944, it left Norfolk to join Plymouth in order to participate in Operation Neptune.
On June 6, 1944, after escorting the imposing Allied war vessels across the English Channel the night before, it reached its position off Omaha Beach. USS Frankfurt took part in the bombardment of the German positions in this sector for the benefit of the American land forces, pinned down on the beach by a fierce resistance of their opponents, and helped the crews whose ships have been affected and were in perdition. It remained engaged in the sector until 15 July.
Deployed in the Mediterranean Sea in August to participate in the landing of Provence, south of France, it engaged several German torpedo torpedo boats on the night of 17 to 18 August: it sank three and seized a fourth. In October, it made its way to the United States where it patrolled along the east coast until January 21, 1945.
Engaged in the Pacific from August to October, it was placed in reserve on 4 March 1946 and was voluntarily sunk on 4 December 1973 during a shooting exercise off the coast of Puerto Rico.
USS Frankford technical sheet
Creator/User: United States of America
Denomination: DD 497 – U.S.S. Frankford
Class: Gleaves-class destroyer
Crew: 276 sailors
Armament (1944): 5x 127 mm guns, 6x 20 mm Oerlikon guns, 6x 12,7 mm Browning machine guns, 10x 533 mm torpedo tubes
Displacement: 1,630 tons
Speed: 37,4 knots
Length: 106,15 m
Beam: 11 m
Draught : 3,61 m