USS Hambleton
Index of Allied warships during Operation Neptune
History, technical sheet and photo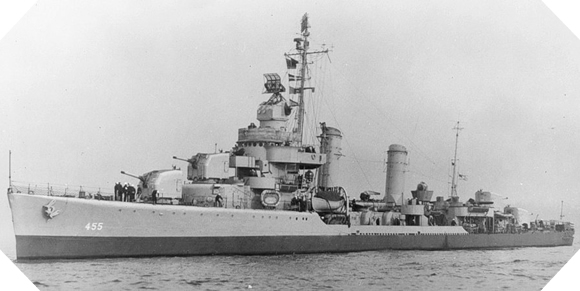 USS Hambleton history
The USS Hambleton was launched on 26 September 1941 and entered into service on 22 December of the same year. After a series of tests at sea, it escorted convoys across the Atlantic and then carried out patrols in the English Channel alongside British naval forces.
It participated in Operation Torch in front of Morocco on 8 November 1942 and escorted the USS Sangamon aircraft carrier. Touched by a torpedo launched by a submarine on November 11, it must be towed to be repaired in Boston. Operational again in 1944, it escorts new convoys in the Atlantic and on 17 May it sank the submarine U-616 after four days of pursuit. Subsequently it joined Britain in order to participate in the Battle of Normandy
On 7 June it escorted a convoy of L.S.T. In the English Channel in the direction of Omaha Beach where it is responsible for strengthening the allied naval support force. On June 9, it spotted five German torpedo boats with its radar: the Hambleton destroyed one and damaged a second. Returning to England to be refueled, it took part in the bombardment of the German batteries at Cherbourg on 25 June.
On the 4th of July, it left the English Channel to join the Mediterranean sea. On August 15 it participated in the amphibious operations in the landing of Provence. On October 25, it made its way to Boston to be transformed into a rapid minesweeper.
Deployed in the Pacific from December 30, 1944, it participated in the Battle of Okinawa and was partially damaged by a suicide bomber attack on April 3, 1945. It then joined the 3rd Wing off Tokyo and then in August began a vast campaign which led to the removal of 184 underwater mines.
After the war, USS Hambleton participated in various exercises in the Caribbean and was deployed three times in the Mediterranean sea within the 6 Wing. Placed in the Atlantic Reserve Squadron on January 15, 1955, it was finally sold on November 22, 1972 to be demolished.
USS Hambleton technical sheet
Creator/User: United States of America
Denomination: DD 455 – U.S.S. Hambleton
Class: Gleaves-class destroyer
Crew: 276 sailors
Armament (1944): 4x 127 mm guns, 4x 40 mm Bofors guns, 5x 20 mm Oerlikon guns, 5x 533 mm torpedo tubes
Displacement : 2,200 tons
Speed: 37,4 knots
Length: 106,15 m
Beam: 11 m
Draught : 4,8 m