USS Herndon
Index of Allied warships during Operation Neptune
History, technical sheet and photo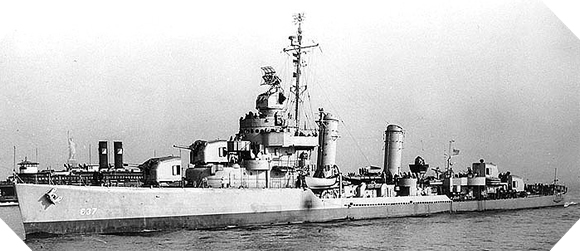 USS Herndon history
The USS Herndon was launched on 2 February 1942 and entered into service on 20 December of the same year. After a series of sea trials, it participated in convoys escort missions in the Atlantic, from the United States to the Algerian coast. In June 1943, it was preparing to take part in Operation Husky off Sicily, during which it carried out demining and fire support missions.
In August 1943 it resumed escort missions to the Atlantic before joining the British coasts in the spring of 1944 to participate in Operation Neptune under the command of Commander Granville A. Moore. As part of bombardment group 125.8 (Task Force A), it crossed the English Channel on the night of June 5-6, 1944 and escorted the allied fleet heading for Omaha Beach. On D-Day at dawn, it took the German batteries in this area under its fire for the benefit of the American assault troops.
The USS Herndon remained deployed in the English Channel until 11 July, escorting the high-tonnage warships and patrolling in search of possible enemies, then it joined the Mediterranean Sea to participate in the operation Anvil, the landing of Provence, south of France. Back in the United States on 3 September to carry out work for the Naval Research Laboratory, it made new escorts in the Mediterranean Sea the following month and then in the Atlantic Ocean in February 1945. At that time, it was escorting President Roosevelt to the Yalta conference.
In April 1945, the USS Herndon joined the Pacific waters for new escort missions, conducted until September, and then patrolled alongside Korea and China. Placed in reserve on May 8, 1946, it is docked in Orange, Texas. It was deliberately destroyed during a training run on May 24, 1973 off Florida.
USS Herndon technical sheet
Creator/User: United States of America
Denomination: DD 638 – U.S.S. Herndon
Class: Gleaves-class destroyer
Crew: 276 sailors
Armament (1944): 4x 127 mm guns, 4x 40 mm guns, 4 20 mm Oerlikon guns, 5x 533 mm torpedo tubes
Displacement: 1,630 tons
Speed: 37,4 knots
Length: 106,15 m
Beam: 11 m
Draught : 3,61 m