USS McCook
Index of Allied warships during Operation Neptune
History, technical sheet and photo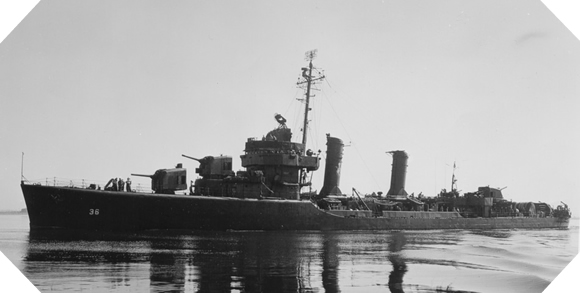 USS McCook history
The USS McCook was launched on April 30, 1942 and entered service on March 15, 1943. After a series of offshore training, it escorted numerous supply convoys and warships in the Atlantic. On April 18, 1944, it joined the Task Group 27.8 in Plymouth as part of the preparation for Operation Neptune. On 28 May it was targeted during a German air raid which was only causing material damage and the Allied General Staff was reluctant to use it for the invasion of Normandy. Thank to the crew of the USS Melville, it can be repaired on time.
Escorting the warships of the 18th destroyer squadron and the naval transport ships from Task Force O in the direction of Omaha Beach, it took part at dawn of June 6th, 1944 in the bombardment of the German positions between Vierville-sur- Mer and Pointe du Hoc: three bunkers and thirteen German machine gun sites. Subsequently, it engaged new enemy positions discovered throughout the day: seven bunkers, eight anti-tank positions and ten houses in which Germans were spotted. The USS McCook remained committed off the coast of Normandy until July 14, when it joined the Mediterranean Sea.
Engaged in the landing of Provence in August 1944, south of France, it was transformed in the United States into a minesweeper. After the war, it carried out demining operations in the Yellow Sea and then carried out a series of exercises, notably along the eastern coast of the United States. Retired from service May 27, 1949, it was finally sold on August 27, 1973 to be scrapped.
USS McCook technical sheet
Creator/User: United States of America
Denomination: DD 496 – U.S.S. McCook
Class: Gleaves-class destroyer
Crew: 276 sailors
Armament (1944): 5x 127 mm guns, 6x 20 mm Oerlikon guns, 6x 12,7 mm Browning machine guns, 10x 533 mm torpedo tubes
Dsiplacement : 1,630 tons
Speed: 37,4 knots
Length: 106,15 m
Beam: 11 m
Draught: 3,61 m