USS Meredith
Index of Allied warships during Operation Neptune
History, technical sheet and photo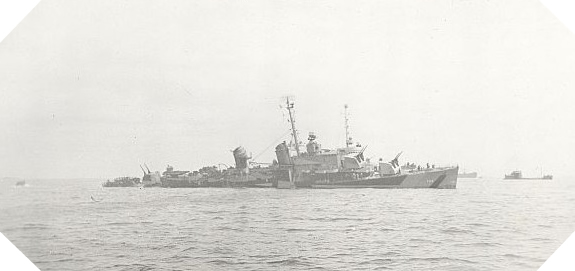 USS Meredith history
The USS Meredith was launched on 21 December 1943 and entered service on 14 March 1944. After a series of offshore training in Bermuda, it escorted a convoy to Plymouth in Great Britain from 8 to 27 May 1944. Then it is preparing for its first and last major mission: Operation Neptune.
As part of U Task Force, it escorted warships and troop transports to Utah beach and participated in the bombardment of German positions in the area on June 6, 1944. The next day, in the early hours of the day, it hit an underwater mine whose explosion killed seven crew members and left fifty wounded and missing sailors. Towed so that it does not sink, it is the target on June 9 of a German air attack and the destroyer is cut in two: of the 279 survivors of the drama, only 163 sailors are saved by the destroyer USS Bates.
The wreck was sold for scrap metal on August 5, 1960, and ferrous operations were carried out the following month.
USS Meredith technical sheet
Creator/User: United States of America
Denomination: DD 726 – U.S.S. Meredith
Class: Allen M. Sumner-class destroyer
Crew: 336 sailors
Armament (1944): 6x 130 mm guns, 12x 40 mm Bofors guns, 11x 20 mm Oerlikon guns, 10x 533 mm torpedo tubes
Displacement: 2,200 tons
Speed: 34 knots
Length: 114,76 m
Beam: 12,2 m
Draught : 4,78 m