USS Meredith
Index of Allied warships during Operation Neptune
History, technical sheet and photo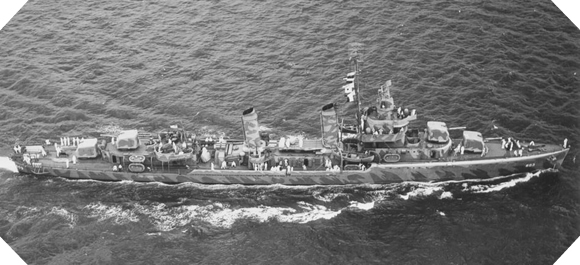 USS Murphy history
The USS Murphy was launched on 29 April 1942 and entered service on 25 July of the same year. After a series of training at sea, it escorted a convoy across the Atlantic and then took part in Operation Torch off Fedhala in Morocco on November 8, 1942. That same day it was hit by Sherkhi's battery which made three dead and twenty-five wounded in the engine room. Repaired to the United States, it then took part in Operation Husky in Sicily in July 1943, during which it opened fire on several German planes.
It then escorted many convoys into the Atlantic and on October 21, 1943, it collided with the SS Bulkoil about 100 kilometers off the State of New Jersey, losing 36 crew members. While one third of its structure was below water level, the Murphy was towed to New York Harbor and underwent seven months of repairs. After this long convalescence, it took part in Operation Neptune in the English Channel.
Integrated with Naval Force O, it escorted the warships and troop transports to Omaha Beach. On the dawn of June 6, 1944, it bombarded the German positions in the Vierville-sur-Mer area and participated throughout D-Day in the naval fire support mission to the American land forces. It remained in this zone for a month while safeguarding the allied invasion against the infiltration of submarines and German speedboats.
In July, it joined the Mediterranean Sea and participated the following month in Operation Dragoon within Task Force 88 off the Provence, south of France. Returning to the United States at the beginning of September 1944 to be restored, it resumed service at the end of the year and escorted the squadrons in charge of protecting the conferences of Malta and Saudi Arabia. Engaged in the Pacific at the end of 1945, it was retired from service on 9 March 1946 and was sold for demolition on 6 October 1972.
USS Murphy technical sheet
Creator/User: United States of America
Denomination: DD 603 – U.S.S. Murphy
Class: Benson-class destroyer
Crew: 265 sailors
Armament (1944): 4x 127 mm guns, 4x 40 mm Bofors guns, 5x 533 mm torpedo tubes
Displacement: 1,620 tons
Speed: 37 knots
Length: 106,17 m
Beam: 11 m
Draught : 5,28 m