USS Nelson
Index of Allied warships during Operation Neptune
History, technical sheet and photo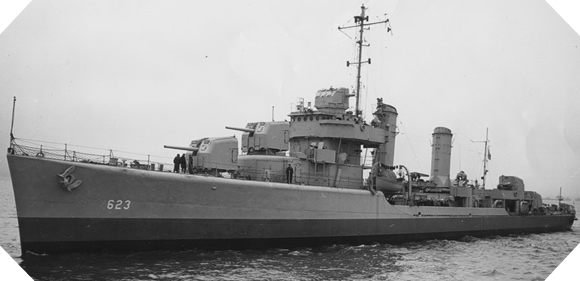 USS Nelson history
The USS Nelson was launched on 15 September 1942 and entered into service on 26 November of the same year. After a series of training sessions along the east coast of the United States, it conducted escort missions in the Atlantic as the flagship of the 17th destroyer squadron.
It participated in Operation Husky off Sicily on 10 July 1943 as flagship of Task Force 81, supporting the landing near Gela. It then spent the end of 1943 in the North Atlantic to escort other convoys.
In May 1944, the Nelson was transferred to Great Britain to participate in Operation Overlord. Damaged during an incident on May 24, its crew makes every effort to make it operational before D-Day, which is achieved. However, it only went off Normandy on 8 June: it was deployed off Omaha Beach to protect the Allied armada from possible attacks by submarines or German speed boats. During the night of June 8 to 9, it repelled an attack and sank two enemy torpedo boats.
At 1:55 am on June 13, it was hit by a German torpedo: 24 crew members were killed or missing, 9 were wounded and one of its four 127-mm guns was destroyed. Towed to Boston, it was immobilized until November 23, 1944, when it took over the escorts in the Atlantic.
It went to the Pacific in August 1945 and was retired from active service in January 1947. It was finally sold on July 18, 1969 to be scrapped.
USS Nelson technical sheet
Creator/User: United States of America
Denomination: DD 623 – U.S.S. Nelson
Class: Gleaves-class destroyer
Crew: 276 sailors
Armament (1944): 4x 127 mm guns, 5x 40 mm Bofors guns, 6x 20 mm Oerlikon guns, 6x 12,7 mm Browning machine guns, 5x 533 mm torpedo boats
Displacement: 1,630 tons
Speed: 37,4 knots
Length: 106,15 m
Beam: 11 m
Draught : 3,61 m